Club Rush Day Leads to a New Wave of Opportunities
   Students rushing around upper campus, flyers flying out of club presidents' hands, the dream of being a part of something bigger than themselves in young pupils' eyes.
   On Sept. 4, West Ranch clubs set up booths in the upper campus as students hurried to try to sign up for clubs in the sweltering heat. With over 60 unique clubs to choose from, students had many opportunities to sign up for a club that was meant for them. The clubs of West Ranch set up posters on their designated desk space with information about their program. To sign up, many wrote down information such as their ID number, grade and name on a sheet of paper. Once done, many clubs allowed their newly-joined students to pick a prize or take a piece of candy.
This event was a success for many club leaders looking to grow their organization.
"I thought club rush ran very smoothly and allowed for students to see how they can get involved. SCORE (So Cal Orphans Receive Encouragement) is a great way students can give back through donations that will go to an orphanage in LA. We were able to get new members and we are so excited for this upcoming year!" says co-president of SCORE Avery Salin.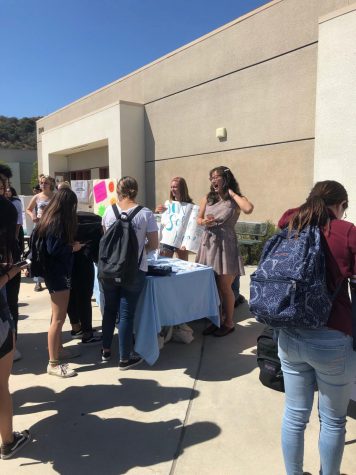 There were numerous clubs students could join, some of the more recognizable being Key Club, Speech and Debate, Robotics and Wildcats Against Cancer. The list of enjoyable and rewarding clubs were endless. Many organizations are social clubs that aim to bring like-minded students together. Others' goal is to help out a group in need. These types of clubs include Sweet as Sugar, The Linus Project, Million Little, KLAWS, HALO, Sole Purpose and many more.
   Clubs are run by the president, vice president, treasurer and secretary of that specific organization. These spots are filled by students, who are chosen by a vote held by the founders or current officers. 
   Participating in a club is always a way to get involved, but being an officer is taking it to the next level. These people live lives of responsibility, time-management, helpfulness, and positivity towards others. Stepping up as a leader has impacted many students and has changed their lives forever. 
   When asked what being the president of Just Coding Things is like, Phoebe 
Wongphatarakul says, "It helped me become more responsible and confident in leading others."
   Club Rush Day of 2019 was one to remember. Students who engage in one of the many clubs West Ranch has to offer will be involved on campus, experience teamwork and coordination and contribute to a greater cause. Many benefits come to students who join a club, such as being given a way to meet people with similar interests, a potential to find a new hobby and a break from the stresses school may bring.
If a student chooses to make a club, they will have to do this at the very beginning of next school year. They will need a pitch for their club and an adviser. A club constitution, a budget worksheet and a list of proposed activities your club will take part in will be necessary as well.