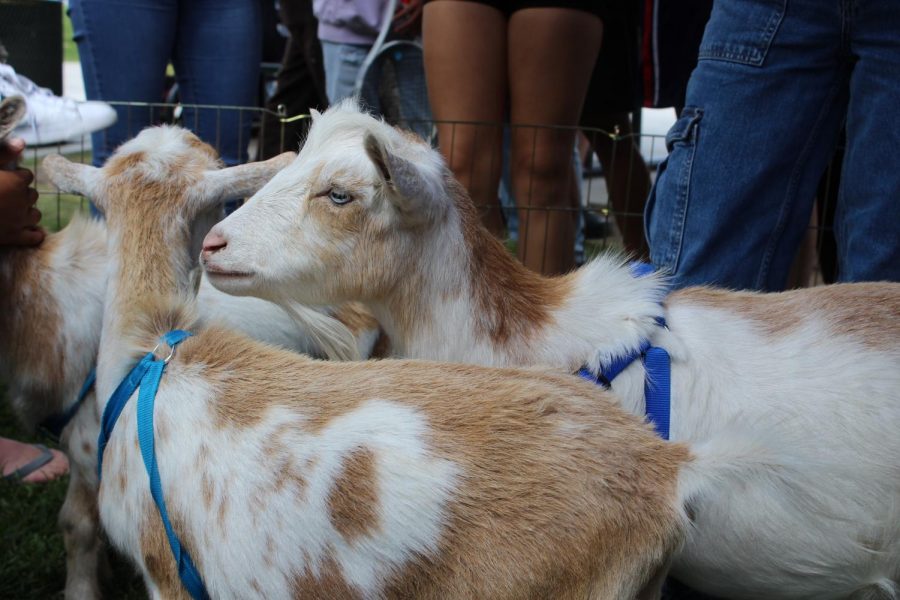 Goats on Campus: How a Few Animals can Provide Students With Mental Help
September 19, 2019
   At lunchtime on Sept. 10, students at West Ranch left their 5th period classes to be greeted by a stunning surprise brought by the Wellness Center. In the grass area underneath the new Wildcat mural, there stood two tents, shading three goats from the sun. 
   Many students were shocked, confused and amused: why were there goats on campus?
   The Paw Print spoke with Nancy Phillips, the Wellness Center social worker, to answer this question:
   "I've been working with Debby from Straightening Reins for quite a long time, and typically we take students there. They have an equine program, they have donkeys, they have horses, and they have goats! So, this time she said, 'Why don't I bring them on campus and just see what kind of a response I get?' If you look around, kids are just happy. It's something different. We just thought we'd do a little pop-up surprise with goats today."
   While goats may be an entertaining — and a somewhat silly — surprise, what is the meaning behind them?
   Deborah Rocha, the executive director for Straightening Reins, revealed exactly what goats can do for mental health. 
    She told The Paw Print, "Everything we do is about working with animals to address those mental health concerns before they become a crisis. We're looking at anxiety, depression, stress, anything that we can do to teach kids healthy coping skills. All of our animals are herd animals, just like humans are, so we learn to look at their behavior; how do they guide us? How do they show us how they stay healthy? So we just wanted to come out and give you guys a heads up on what's going on."
   Does this really help? Can petting a goat for a few minutes at lunch really improve the mental health of students? 
   Even if the long-term effects of a petting zoo cannot yet be seen by West Ranch students, the short-term effects are vivid.
   After leaving the company of the goats, 10th grade student, Kennedy Garate, shared, "I love them so much! That was like everything that I've ever wanted!"
   If you missed out on the goats last Tuesday, don't stress — Straightening Reins hopes to return sometime in October with more surprises for students.
   Who would have thought that having a few goats on campus could bring so much joy to the otherwise stressful environment of high school?