Lunch Bunch rewards students and shows their teachers' appreciation
Read about this Quarter's Lunch Bunch
   On Dec. 3 and 4, ASB hosted Lunch Bunch in the library as an event to honor and reward students who stood out from others. Their positive attitude and hard work are recognized through this amazing opportunity. 
   The library was decorated with holiday decor galore, complete with a Christmas tree in the corner. A video of a burning fire played in the background as calming music flowed from the speakers. Select students were gathered in the library, surrounded by their smiling teachers and proud administration. 
   A table loaded with pizza, salad and cookies awaited eager students and teachers. As they dug in to their delicious lunch, they were able to converse freely for a bit until teachers gave short speeches about their students. 
   Teachers and students alike look forward to Lunch Bunch to form special relationships during the school year. 
   "I was really excited when I found out that I got nominated," said Mia Salin. "It's really cool because I want to get to know my teacher better." 
   Mrs. Rojas similarly said her favorite part of Lunch Bunch was "being able to talk to the students I bring."
  Teachers choose their nominees in a variety of different ways. Mr. Worby says, "I want someone who stands out in a different way, maybe engages more with their pee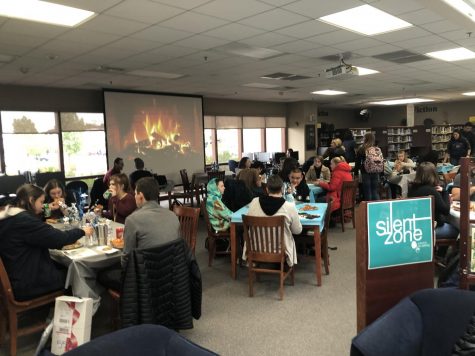 rs in small group activities or other things like that."
   Mr. Worby added, "It doesn't necessarily have to be a grades-based student. I try not to look just for my highest-level student."
   After a meaningful lunchtime, the teachers passed a microphone around the room and explained how their students had a positive impact on their class or community. Students beamed with pride as the people who taught them described fondly how they attributed to a fun environment within the classroom. 
   These speeches gave teachers a chance to compliment their students in front of a crowd. Many students felt proud of being picked for Lunch Bunch and left the library feeling appreciated and recognized by their teachers.    
   Lunch Bunch provides a great opportunity for teachers to recognize students who are truly special and encourage them to continue striving for excellence twice per semester. It's a unique event where teachers and students get to bond over a free lunch while the teachers display their pride and appreciation for their students.