U.S. airstrike killed Iran general at Baghdad International Airport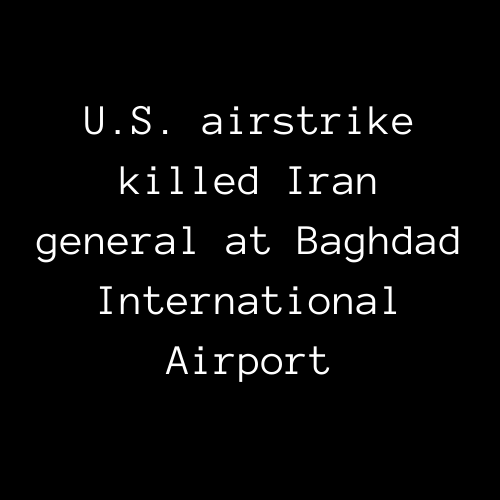 On Jan. 3, the U.S. killed General Qassem Soleimani at Baghdad International Airport by drone strike. Soleimani was a commander of Iran's military in Iraq, Syria, Lebanon and the Middle East.
   The deputy of the Popular Mobilization Units militia, Abu Mahdi al-Muhandis, was killed along with Soleimani when their vehicle was hit on their way to the airport.
   The U.S. Defense Department's statement referred to the attacks on the U.S. Embassy in Baghdad on New Year's Day, saying that the "strike was aimed at deterring future Iranian attack plans." 
   According to the Pentagon, Soleimani had been developing plans to attack U.S. diplomats and service members in Iraq, and the Defense Department said that he was responsible for rocket attacks on coalition bases in Iraq. 
   Iraq's rocket attacks and the attempted U.S. Embassy compound breach in Baghdad on Dec. 31 had already brought tensions to an overwhelming high. But after these recent airstrikes, many people are unsure of what's next.
   Many people, including a CIA veteran, say that Iran is going to retaliate with immense force. However, President Trump, when asked if this meant war, said "I don't see that happening." 
   Iran has already admitted that they were under pressure and shot down a Ukrainian jetliner by mistake on Jan. 8. Riots and protests have been raging in Iran ever since.
   The Paw Print is monitoring the situation.