Counselors host college application workshop, offer crucial guidance amidst upcoming deadlines
Synchronous distance learning is a new world for every West Ranch student, but most seniors have a different kind of learning on their mind, an education that once seemed distant but is approaching quickly—college. Now more than ever, seniors have many questions about the college admissions process. Luckily, Mrs. Reynoso, one of West Ranch's knowledgeable counselors, hosted a webinar that helped set them on the right track.  
At 6:30 p.m. on Aug. 26, Mrs. Reynoso began broadcasting a Google Slides presentation to hundreds of viewers. Families of seniors scrunched together on the couch and students set homework aside to listen to the webinar. Participants could type questions into the Zoom chat box at any time and received answers at the end of the session.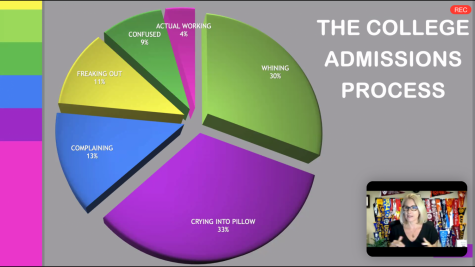 Although many seniors have attended a college admissions information session before, the counselors' webinar was probably considered one of the more useful ones. It directed students on crucial steps necessary to complete the best applications possible. 
To begin, Mrs. Reynoso prefaced that the college application process is a long, strenuous effort, but emphasized that "the reality is, you'll get through it. You'll be fine; you just need to take it step-by-step."
She then laid out what seniors should always have on hand as they are working through their applications: their unofficial transcripts, lists of community service hours and activities, and credit cards, to name a few. She also reminded everyone that the West Ranch School Code, 053-864, will be needed in a few areas of the application. 
As she delved further into the presentation, she covered important information about the University of California (UC) and California State University (CSU) applications, both of which are due at 11:59 p.m. on Nov. 30.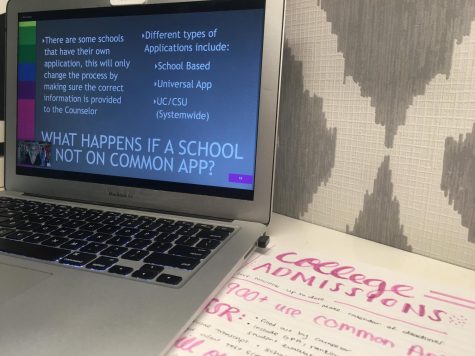 The middle of the hour brought the most important part of the webinar. Mrs. Reynoso introduced the audience to the SSR, or Secondary School Report. Requesting an SSR Form from the counselors helps them write letters of recommendation for students. If seniors are applying either Early Action or Early Decision to any college or university, or have an application due Oct. 1 or earlier, they should have requested an SSR evaluation before 3 p.m. on September 8. If students are only applying Regular Decision, they must request the SSR by Oct. 29. Seniors should have received an email from their counselors with the request form attached; if not, they should contact their counselors as soon as possible. To complete the form, seniors must also complete the Senior Brag Sheet 2.0 on Naviance, which can be accessed by clicking on the Google "waffle", finding Naviance, and then clicking on the "About Me: Home" in Naviance. After turning in the SSR request form, they must visit the counseling website to print and fill out the "Student Authorization to Release Information" to send to their counselors.  
Mrs. Reynoso also touched on financial aid, encouraging every senior to apply. She reminded students that the FAFSA, or Free Application for Federal Student Aid, form can be filed during the period of Oct. 1 to March 2. College of the Canyons will also be hosting a Cash for College workshop on Sept. 24 for students and parents. 
In closing, she emphasized that senior grades still matter, so everyone should keep working hard. She also highlighted that students shouldn't try to hide their grades because universities can revoke a student's acceptance as a result of dishonesty.
Mrs. Reynoso ended the webinar with an encouraging quote for stressed-out seniors: "Always remember you are braver than you believe, stronger than you seem, smarter than you think and more loved than you know."
Seniors, if you missed the webinar or need a refresher, you can find it here. For more college guidance, visit the West Ranch counseling page here. College applications are stressful, but you can do it cats! We're all in this together.