West Ranch High School enjoys a "What I Need" week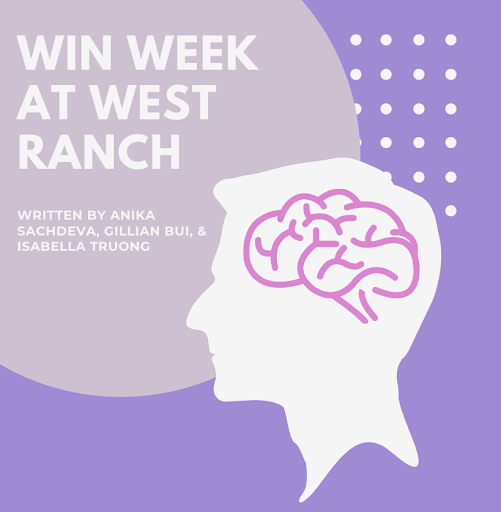 As school began in an online environment this year, many students have been struggling to adjust and keep up with the pressure and challenges of online learning. To help reduce the stress, West Ranch High School decided to dedicate a week to help students rejuvenate and catch up. This is known as "What I need" week, or WIN week. 
   For the duration of WIN week, students were given the opportunity to focus on what was most beneficial for them, whether it be catching up on missing assignments, reviewing material or taking a break from the normal workload. Teachers were instructed not to assign their students any new material throughout the week. 
   "Online school has been challenging to keep up with. I needed this time to not worry about assignments and relax," explained West Ranch freshman Julia Kremenetsky.
   WIN week took place from October 26 through October 30. Although the period of time was geared towards students, teachers and staff utilized the time as well. 
The Students 
   For most of the students, the week was an opportunity to slow down, catch up on missing assignments, work ahead or do work for other classes. 
   Students were still required to attend ZOOM meetings. However, the teachers were able to adapt the class to allow it to meet the needs of their students. 
   "Before WIN week, we looked at a number of D and F grades. At the beginning of this week we measured again and we had over 100 fewer D and F grades. That is the data telling the story of success," West Ranch Principal Mr. Crawford explained.
   Each student took advantage of their time differently. West Ranch senior Shirra Alcine revealed she liked WIN week because it gave her "time to relax, do extra credit opportunities and work on college applications." 
   In addition, in celebration of the week, seniors were given the opportunity to pick up free donuts, chocolate milk and Capri Suns at school. Handouts took place from 7:00-8:30 A.M on Wednesday, October 28. Familiar teachers were seen giving out the foods as seniors drove by to collect their goods.
The Teachers
   Teachers used the week to grade assignments and helped students catch up on missing work. They also gave students the opportunity to review difficult concepts that they were struggling with. 
   Most of the teachers at West Ranch favored the idea of WIN week. West Ranch AP Human Geography teacher, Ms. Rojas, says, "I feel like WIN week was great for students that took advantage of what it had to offer. I saw my students doing great things, most of all catching up on work they were behind in, whether it was for my class or another class. But, I also saw many of my students who were caught up on their work take advantage of a beautiful week to get outside."
   However, some teachers didn't think that WIN week was beneficial. Although it is beneficial for students to take a break from schoolwork and their computer, students should make a habit of completing their assignments on time.
   Señor Corretjer, a Spanish teacher at West Ranch, says that he would not enjoy having another WIN week. "I do not want the students to think that they can miss work or assessments on purpose, knowing that they can make them up later with few consequences," he explained. The differing perspectives of the teachers and students reflect the mixed opinions on WIN week. 
Mental Wellness
   Overall, WIN week has been beneficial for students and staff. It was necessary for everyone to take a break before continuing the semester. Many students favored WIN week, and hope that there will be plans for another one in the future. 
   "I personally really liked WIN week due to the positive effect that it has, not only on me, but the whole student body," freshman Megan Lee stated. "It functions as a week of rest, since no new work or lessons were assigned." The concerns of the students' mental state shows how much West Ranch cares for their students. 
   West Ranch Wildcats had a great week overall, and everyone has been able to catch up and take a deep breath. 
   "This was never meant as a time to do absolutely nothing," explained Principal Crawford, "as a student that may have had nothing to complete or make up, it was a time to just review and learn for learning's sake.  We rarely have time to do that anymore. All in all, I believe it was a success."