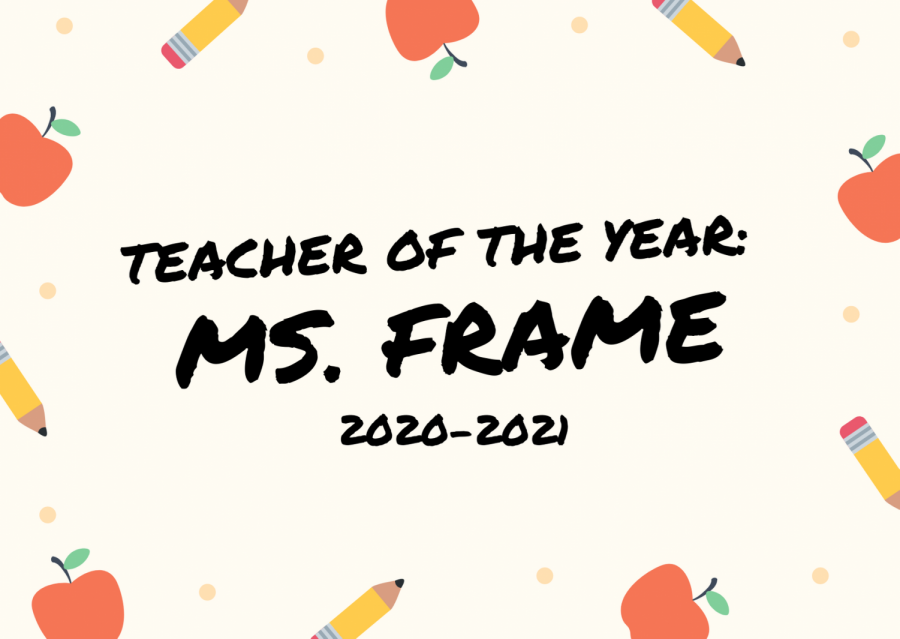 The Teacher of the Year Award is an annual honor given to one West Ranch teacher whose efforts have been exceptional in creating a better educational environment. The 2020-2021 school year brought a new world of digital education upon teachers. In a year full of challenges and adjustments, English teacher Ms. Frame was recognized for her hard work in supporting her students and colleagues on Wednesday, May 8, 2021.
   "It is incredibly flattering [to be named Teacher of the Year], especially knowing how hard all of my colleagues worked this school year. No one was prepared for almost a year and a half of distance learning, but I watched the teachers I work with turn it into the best possible experience they could, given the circumstances," said Ms. Frame. "I'll be honest, though, being named Teacher of the Year the same year my son was a teacher on this campus as well, makes it a little sweeter!"
   The West Ranch Teacher of the Year Award is voted on by the staff at West Ranch. Teachers are nominated by their colleagues, and then a final vote is taken. When asking for nominations, teachers write exactly why they are nominating that person.
   "Teachers really appreciate seeing that their peers respect their work and are truly honored just to be nominated," said Principal Mark Crawford. "It is not something you campaign for. [Being Teacher of the Year] is being recognized for the work they do with students and their positive relationships with all those around them, student and staff alike."
   Mr. Crawford went on to say, "Ms. Frame is such a positive person. She truly takes the time to see value in all students and staff. As the English Department Chair, she has done an incredible job leading that department and she is an integral member of our Leadership Team. She has been a part of West Ranch since the beginning [and] is an example of how to show empathy and acceptance to all. I am honored to have her as a part of this staff."
   When asking students about Ms. Frame's impact on their lives, Matthew Chan, a senior at West Ranch, explained, "More so than in any previous year, our experiences in school have a significant impact on our mental health. Throughout the past year, Ms. Frame has never failed to make my classmates and I feel supported as she regularly demonstrates a sincere interest in keeping up with our well-being."
    He went on to say that during the year, Ms. Frame "made thoughtful adjustments to the structure and composition of her class to adapt to the online (and now, hybrid) format, more than the vast majority of teachers— all of which ease the burden on students, while simultaneously ensuring that we understand the curriculum and are prepared for the AP Exam." 
   For Ms. Frame, teaching has impacted her life in an indescribable way. Before becoming an educator, Ms. Frame majored in theatre and was an aspiring actress. However, she quickly realized that supporting her and her son on an actor's salary wasn't going to work since she earned "exactly zero dollars as an artist." 
   "I was looking for a challenge, something I would enjoy, and a change of scenery. [Deciding to become a teacher] was the best professional decision I have ever made. I'll retire from room 206, I love it here that much!" expressed Ms. Frame.
   She went on to say, "I love my students, [and] I love seeing them become better thinkers, better listeners, better and kinder humans. Of course in my class we work to master standards, of course we follow the curriculum, but the most important thing we do is listen, think, and care for one another."
   For now, Ms. Frame's aspiration is to get through the distance learning and the hybrid model of teaching, and return to having all of her students with her in the classroom. 
   "I miss them tremendously and can't wait until we can physically share the same space. I love teaching, and other than maybe trying the actor path once I retire, my future's right here in room 206!" Ms. Frame exclaimed.
   Congratulations Ms. Frame on receiving the Teacher of the Year award during such unprecedented times!