West Ranch's Astronomy Club Shoots for the Stars
November 29, 2018
Outer space has been a focal point of human intrigue for thousands of years, and interest has only spiked as time has passed. What is out there? How is it out there? Who might be out there? An insatiable desire to discover the vast unknowns of space has led curious and driven people to determine methods of transforming their contemplation into not just questions, but answers.
The members of West Ranch's very own Astronomy Club are ambitious learners that strive to do more than just speculate the uncharted. They are making history while pursuing their undying passion for deciphering what lies beyond what is immediately visible, and they have become the first group of high school students in the United States to write a scientific proposal to NASA. Needless to say, this is an astronomical feat that most people, even those older than them, could never even dream of attempting.
Senior Yael Brynjegard-Bialik, the bubbly president of Astronomy Club, discovered the opportunity to make an impact outside of campus a year ago when Ms. Hirst, club advisor and astronomy teacher, mentioned it to her classes. From there, a seed of interest sprouted within Brynjegard-Bialik, and she gathered her peers to decide on a target and begin their scientific journey.
Brynjegard-Bialik eagerly explained the basics of the project her team had worked tirelessly on for countless months.
"We wrote a proposal for telescope time on NASA's SOFIA mission, which is this massive infrared mounted onto a Boeing-747 jet plane," the president began. "Our proposal is asking to look at one of Jupiter's moons, Europa. We're going to be observing thermal activity, and we're asking for time to use that telescope to collect our data."
Events chair Elijah Priwer delved into further detail about the significance of their research and what the success of their proposal could bring. "One of the two most likely spots in the solar system for us to find life in the solar system is Europa, and that's what we're observing. If our proposal goes through, and we observe plumes on Europa, that would be evidence that biological life could exist there. A lot of what we're doing could have an impact on finding extraterrestrial life, building off of what NASA is doing," said Priwer.
NASA is extremely large and influential, and Mrs. Hirst's previous experiences with the organization sparked the idea between the students.
"A few of the science teachers were given the opportunity to go on a flight to observe some of the other scientists take their observations. Frankly enough, Mrs. Hirst got a connection with one of the directors of the SOFIA program, and we've just been working with them and trying to be the first high school group to essentially do this," said Rijker Hutson, the club's vice president.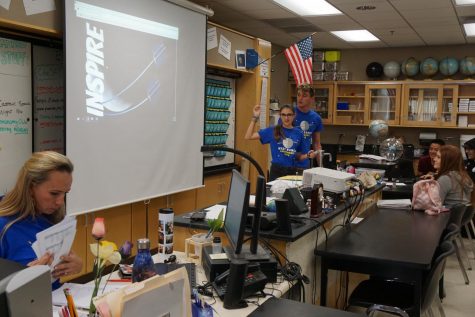 This isn't the first and last impressive project the club has in store. While they juggle the workload the NASA proposal has given them, they are simultaneously arranging future activities that are just as monumental.
"We're also going to do the tomatosphere where we get seeds from the ISS and normal seeds that haven't been in space, and then germinate them, plant them, track their growth, and send it to NASA so they can use our data for the future of growing things in space," said events Vice President Elle Harvey excitedly. Everyone chipped in their excitement over participating in future NASA robotics and coding challenges, as well as developing another proposal for a different telescope.
Every club member must pour a substantial amount of effort into their projects in order to obtain such colossal results.
"For the proposal, it took a lot of work," Brynjegard-Bialik noted, explaining the time they needed to spend outside of school to complete their goal. "As a member, attending the meetings is really important. They're weekly so we can actually get things done just within those meetings. Once we approach deadlines and stuff, we tend to have a few other meetings outside of school for extra work," the president added, her fellow members nodding affirmatively.
Besides poring over astronomical paperwork and data, Astronomy Club participates in a plethora of fun team-bonding activities and even occasionally hosts guest speakers.
"As a club, we also go to star parties throughout the community, and we also host movie nights. Whether it be Star Wars or Star Trek or Interstellar, we geek out over those good old movies," says Hutson.
Although Astronomy Club always has multiple exciting projects taking place, Hutson says that the SOFIA proposal has been his personal favorite in all his years of participating in the group.
"The data that we collect is actually being used and is important. Our data will be cited by people in the research papers, and I don't think anyone else is doing that," the vice president said.
"Our NASA proposal is something that adults are supposed to do, and professionals with doctorates!" added Brynjegard-Bialik enthusiastically. "They just assumed that your title would be doctor when we were submitting the proposal."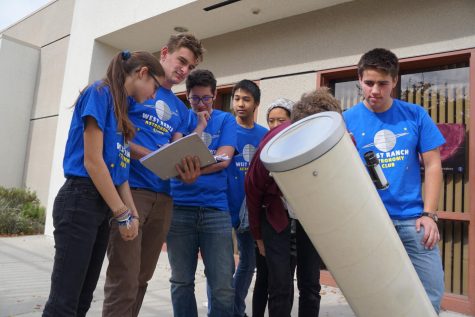 Each and every member is exceptionally passionate about their work in astronomy, and their unwavering devotion has generated staggeringly positive results. Such success has fanned the flames of an already burning love for space and has certainly gotten these students thinking about how their work now will relate to their future. When asked if any of them wanted to work for NASA, everyone replied with a chorus of beaming yeses.
Although the astronomy students are extremely independent and intelligent, none of their goals would have come to fruition without Mrs. Hirst, their phenomenal advisor.
"She is my inspiration and the reason I was able to coordinate the proposal in the first place," says Brynjegard-Bialik.
Many people have found solace in the well-known quote, "Shoot for the moon. Even if you miss, you'll land among the stars." The students of Astronomy Club take this saying literally. Teenagers are often faced with doubt that someone so young can't have a significant impact in the world around them, but Brynjegard-Bialik and her team have proven otherwise through their impressive SOFIA proposal.
If you're interested in making history, Astronomy Club meets in room 305 every Monday in Mrs. Hirst's room and welcomes new members with open arms.