Merry Christmas already?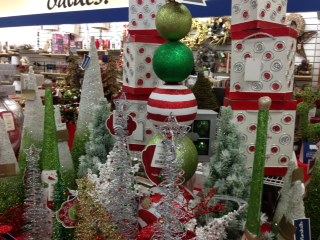 We wish you a merry Christmas… already?
Stores such as Walmart have already started putting Christmas decorations on shelves and playing Christmas music. It's not even November, and they are putting out Christmas adornments. Stores are rushing into the holiday season, and by the look of it parents aren't too happy about that. The holiday season brings stress and sleepless nights to parents trying to figure out what presents to get for family and friends and you will know that they are these things because they will tell you that they are stressed and tired.
A lot of people do enjoy the holiday season. People enjoy things such as decorating the Christmas tree, putting up decorations around the house, wrapping presents, Starbucks holiday drinks, etc. I love the holidays but when they are starting early it feels as though Christmas is pushed back in a way; since you're starting the season early, you have extra days to wait impatiently.
In my house, Christmas is the busiest time of the year. My mom rushing around trying to get everybody's presents and setting up for Christmas Eve dinner. Even though she may have "more" time to get ready for it, she is still running around doing things, such as last minute shopping, wrapping and cooking.
What ever happened to Thanksgiving? I'm not a big fan of Thanksgiving in all honesty (not a big admirer of the food), and I'm guessing the stores aren't either. I went out shopping not that long ago and all I saw was Christmas decorations. And in a small corner of the store, hiding, I see a very small amount of fall decorations. There wasn't much but at least they had some, right? But in other stores, they don't have that haven of fall decorations, they have Christmas decorations everywhere. Are they just trying to make more money by selling Christmas decorations earlier? How is that efficient? You have people buying the decorations early then nobody is buying them during Christmas.
I am looking forward to the Christmas season, but I want to experience one holiday at a time.  For now, I'm going to try and ignore the Christmas decorations and enjoy Halloween and Thanksgiving as they come, and a day after Thanksgiving is when I'm going to start getting excited ready for Christmas.
Now merry early Christmas to all and to all a goodnight!