Selfies: The Hidden Happiness
Hang on for a minute...we're trying to find some more stories you might like.
How many times have you seen people post pictures of themselves with "#selfiesunday"?  Whether it's a duck face or smile, many teenagers have the urge to post a picture of themselves onto the Internet. As a fellow teenager in our society, I can attest that I have taken selfies a few times.
Thanks to the creation of social networking websites such as Instagram, Twitter and Facebook, it has become easier to post and share pictures with friends and family. Although some may think selfies are annoying and unnecessary, like most things in life, they come with benefits.
According to Radhika Sanghani in her article about selfies in The Telegraph, taking selfies is a waste of time and harmful to teenagers' perspectives of body image. During an interview with The Telegraph, Dr. Terri Apter, a psychology lecturer at Cambridge University, supported Sanghani's claim.
"The thrill of narcissism, uncensored by reflection or judgement, all too often leads to impulsive self promotion," said Dr. Apter. However, both Sanghani and Apter viewed only the negative aspects of selfies, which bring no harm.
Through selfies, people gain opportunities to define themselves. Selfies can express to others This is my personality or This is what I like to do. In a society where people, especially teenagers, want to fit in and be interesting, taking selfies has become a method to showcase self expression.
New hashtag trends, such as "#selfiesunday" or "#flashbackfriday," allow people to post pictures and gain a sense of connection with followers on social networking sites. Some people take selfies at fun or important events. When I went to a Korean Pop concert a few months ago, I was really excited and surprised to see some peers post pictures from the concert. I saw their selfies and reminisced the great time I had at the concert. Therefore, selfies establish a personal and intimate relationship among multiple people.
Plus, let's be honest. When we post selfies with our best hair and clothes, we feel good about ourselves. Since we look so dashing, we develop an urge to share with people how we look. The usual process includes taking multiple pictures, choosing the right filter, posting it and impatiently waiting for people to "like" it. In a way, those who "like" someone's selfie support and agree with the person who posted it like "Wow, you looked like you had fun" or "Yeah, you look cute today." After various people view and "like," we, young teenagers, gain a sense of self-confidence and pride. Another experience I can attest to.
In her article expressing her thoughts on selfies, Molly Foscoe, a writer for the Huffington Post, said, "Seeing a close up picture of your own face and willingly showing it to thousands of people with one click is a form of self-confidence that I don't think should be quickly dismissed. It's taking a risk and opening the door to criticism but hoping for positive reinforcement and love."
Feeling good about one's self and sharing experiences with people is neither harmful nor annoying. Remember to encourage others and view people in a positive perspective. Next time, I think I will "like" someone's selfie to say, "Hey, I like your face today."
But first, let me take a selfie.
About the Contributor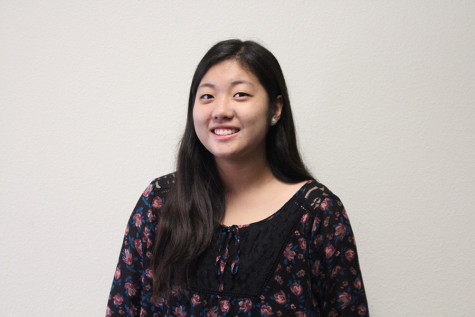 Sydney Chang, Opinions Editor
Hello I'm Sydney Chang, a senior and co-editor of the Opinions fam! I love to eat, eat, and eat. Hit me up if you want to go to Disneyland. I am so excited...