Photo Creds, Please
Hang on for a minute...we're trying to find some more stories you might like.
Cite your sources. Cite your sources. Cite your sources.
This is often the instruction we follow when completing those long synthesis essays, document-based free responses, and detailed lab reports. Despite the effort individuals put into citing academic sources, this is often not the case for that aesthetic Instagram picture or that candid Facebook profile you uploaded yesterday.
A while back I took some photos with a beautiful Canon Rebel T1i for a band and orchestra concert. Although the photos were for journalistic purposes, I made sure to take some individual shots of my friends. As I uploaded the photos to the Paw Print website and shared them with others, I received much appreciation and gratitude for the quality photos I took of my peers. Although I don't consider myself a master photographer, I was proud of the photos I had taken and how they made others happy.
Recently as I scrolled through Facebook, (yes, people still use Facebook and it's not just for old people) I liked my friend's profile picture, yet was struck with the oddest deja vu. I had seen this picture before. This was mine. I felt a bit dumb for not realizing instantly that I was the one at the event taking the picture, the rightful owner of my art. It also saddened me because I felt robbed that my acquaintance had plagiarized my picture. Oddly I didn't see my name anywhere on the post, but only saw a cute and witty caption to accompany the photo.
As a decent and well-mannered person, I didn't backlash and explode in fury toward my friend, but instead posted a friendly comment asking for photo credits. In response he said, "Oh, I didn't even know you took this. Thanks!"
Upon seeing the reply I was slightly dismayed that he didn't even realize where the photo had originated. At the same time I was struck with subtle guilt and embarrassment. Did I sound too snobby because I asked for photo creds? Should I just have let it go and not said anything at all?
The answer: absolutely not. There's no reason to feel embarrassed or shy about asking for photo credits; that photo is rightfully mine. I sacrificed my time to attend the concert. I bent low and crept around the dimmed room trying to get the best angle of individuals. I slipped into the backstage to get the behind-the-scene action of the musicians. My effort should not go unclaimed.
Photography teacher Tammy Kornfeld explains that giving photo credits is simply an appropriate and respectful way of commending an artist and their work.
"The least that can be done is to identify who conceived the work. Simply put – neglecting to give photo credit is disrespect in bad form," said Kornfeld.
Even though it was simply a profile picture, I ensured that the effort I put into my photographs were rightfully known. It goes to address the issue of plagiarism as well. Plagiarism is often thought of in a perspective of cheating or copying someone's ideas; photos without a reference to the owner is also a form of plagiarism.
So to all you photographers out there: don't be afraid to get the credit you deserve.
About the Writer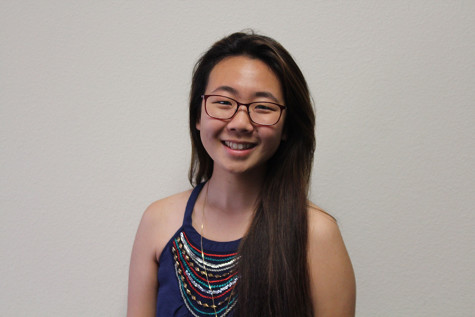 Candace Ro, News Editor
I am a lover of writing. I also like art, but I think I convey my thoughts and ideas better through writing. I look pretty typical on the outside, but...