Freshman Year vs. Senior Year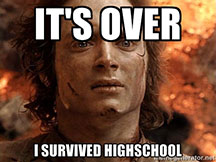 I still remember when I stepped foot onto the West Ranch campus for the first time. With big hopes and a confident smile, I walked around campus and got hopelessly lost along the way. I met up with my junior high friends, learned new subjects, and joined new clubs. I felt butterflies in my stomach as I began to think about all the possibilities and events in my future.
To me, starting high school brought a new sense of freedom and fun. But to my parents, it was a critical period in my life that would determine my success in the future.
After reading numerous articles of students getting perfect scores on their standardized tests and getting into some of the most prestigious universities in the country, my parents certainly had great expectations for me and my success. It is not stereotypical that most Asian American parents (especially Korean parents) hope for the best of the best, and expect their children to attend one of the Ivy League schools. It is an unfortunate fact. Prior to beginning college applications, I was only aware of some of the top universities, such as Harvard and Stanford. This definitely tells you something. I did not admit it then (but I will admit it now) that I felt a burden on my shoulders.
Freshman year was the year I worked the hardest in school. I completed my homework the day it was assigned. I studied for tests several days before it would be given. I joined clubs that supposedly looked great on college applications. Basically, I had no life after school and followed a formulaic routine every day: school, homework, study, sleep.
With great results at the end of freshman year, I felt less anxious and became even more confident than before. I certainly did let my guard down when I received my first B in AP Chemistry during sophomore year.
Boy, did I feel like my world was crashing down. I was absolutely appalled and could only think, "Me? Get a B? That's preposterous. I have to go to Harvard." Although I can say the same things now in a more sarcastic and easy-going tone, a part of me was quite serious and desperate for recognition and success.
My academic career seemed to plummet from there. Low standardized test scores. Terrible test scores in both Advanced Placement and Honors classes. I screwed up here and there. I was exhausted both physically and mentally. I reached a point where I would get angry every time someone asked me what I wanted to be when I grow up or how I am doing on my SATs. I began to question, "Why can't people mind their own business?" and "Why do I have to compare myself to other people?"
So many times I could see the disappointment in my parents' faces that I began to fear failure. I could not bear to see my parents' expressions once I logged into College Board or told them about another opportunity I missed. I now understand that this so-called fear did not derive from worrying about my future but the possibility of disappointing or angering my parents.
Now, please do not misunderstand. I make my parents sound like the most uptight and strictest pair of people. But they love me and show they care all the time. This rollercoaster of emotions was simply because I did not realize that everything I did in high school is for me. For the majority of my academic career, I was so caught up in the idea that I had to make my parents and others around me proud that I did not realize that this is my life and my own story to tell. The burden on my shoulders had completely blinded me from seeing my true potential and eventually burned me out.
In order to make this article even more purposeful, I will leave you with some advice.  Attempt to truly know yourself and set your head straight on what you want. Realize that failures do not define you. Know how to pick yourself back up.
Oh, and avoid senioritis. If you can.