No B.S.? That's B.S.
3 egg whites, 6 almonds, 4 cashews, 2 dates and no B.S. Unlike most nutrition bar brands, RXBars are not shy in hiding what they're made of.
RXBar's most popular flavors include chocolate sea salt, mixed berry, chocolate peanut butter, and chocolate chip. The RXBars even come packaged for kids, with their website claiming, "No B.S. for you; no bad stuff for them." These kids versions contain smaller sizes of the normal bars along with cute wrapping, although the kids chocolate chip bar wrapper looks as if it has the smiley face poop emoji on it.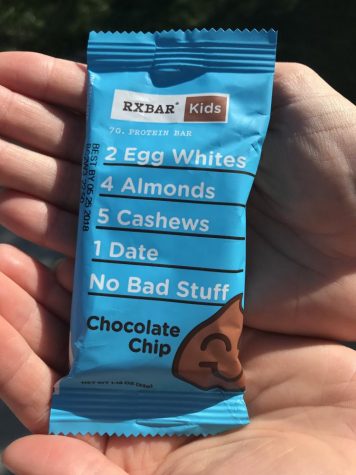 When I first found these bars in my pantry, the chocolate sea salt type to be exact, I was impressed by the simplicity of the wrapper. The bar itself, however, was sadly not as aesthetically pleasing. I often tend to judge food by how it looks, and after seeing what laid behind the wrapper, I found that I wasn't as willing to try the bar. The bar was a dark brown and looked similar to a brownie that got squashed in your backpack. After taking a bite, the richness of the chocolate was almost too evident. However, if you enjoy the taste of dark chocolate, then the chocolate sea salt bar might be for you.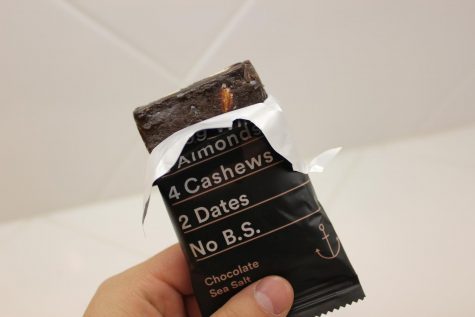 If it has no B.S. then it's automatically healthy right? Wrong. Just because a nutrition bar claims to be full of protein, it doesn't mean that every protein bar is a healthy choice.
Most of the RXBar flavors contain up to 220 calories. To put it further into context, this one bar has the same amount of calories as one Snickers bar. And I have a hunch that the later option might win in the taste department.
Luna bars and Kind bars are about 180 calories each. This 40 calorie difference may not seem like a big deal to most people, but some brands of nutrition bars can actually be substituted for an actual meal. For example, eating one RXBar would be the same as eating a bowl of yogurt and fruit. If you're trying to eat healthier, I wouldn't recommend eating breakfast along with a RXBar.
Even though these bars have some downsides, they also have a few nutritional benefits. Despite the large amount of calories, RXBars contain lots of protein and beneficial ingredients like cashews and almonds.
Although these bars are worth a try, they're a bit pricey. A pack of 12 bars with six different flavors costs $27, and one bar can cost up to two dollars.
If you're looking for a an energizing snack before practice, or maybe just want to tell you're friends that you're eating no B.S. make sure to try a RXBar; however these bars aren't for everyone.