The Hate We Give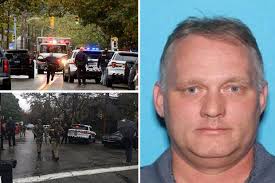 A gunman who frequently posted anti-Semitic messages, theories, and memes online — including an ominous message moments before his shooting — burst into the Tree of Life Synagogue where many people came for their daily Saturday worship on Oct. 27.
  The gunman, Robert Bowers, killed 11 people. Among the victims were two brothers, a couple that got married in the synagogue and a doctor that treated patients with HIV. On the chase as a suspect, Robert Bowers finally surrendered on Sunday morning, screaming at police, "I want death on all Jews."
  The attack is considered a hate crime, and is one of the most devastating acts of anti-Semitism in America in the past 20 years, according to CNN. There have been many responses to this attack, and when the list of victims came out on Sunday, Oct. 28, it left everyone confused and scared. Pennsylvania is known for their safety and freedom of expression, so it came into a shock when there has been a shooting in Squirrel Hill, Pennsylvania.
  Many officials have responded to the shooting, going online to many news sources, like Fox News and CNN. Tom Wolf, governor of Pennsylvania, was one of those people that spoke out against the attack.
  His message was to help comfort and sympathize with the 11 families that lost their loved   ones. He also wanted anti-gun laws in America.
  His speech included: "The shooting in Pittsburgh this morning is an absolute tragedy […]These senseless acts of violence are not who we are as Americans […] We cannot accept this violence as normal."
  It's true.  
  They aren't who we are as Americans because in this America, we do not accept this violence. To be an American, we must be respectful and nonviolent.
  In this America, Americans don't use guns aren't used to kill.
  Safety is always a priority, so students don't have to live in fear every time they go to school.
  No one watches their surroundings whenever they go into a public setting thinking, "Is there a gunman coming?" because guns are stored away in people's houses.
  Guns are normalized in America. But killing people isn't. We should take every shooting as a lesson learned and try to learn from those mistakes before the next shooting happens.
  It has not been working for 2018. We as Americans realize the severity of guns and that this violence can be brought to an end.
  There have been 323 mass shootings in America as of November 28, 2018.
  There have been 1,000 dead from those mass shootings in 2018 alone.
  There are relaxed gun laws that allow anyone, even people with a mental illness, to be in possession of a gun.
  Welcome to America. Where senseless acts of violence are "disapproved." Where guns "aren't normal."
  But it's a one-way ticket. Because in this America, we own 48% of the guns worldwide. We have one of the highest amount of mass shootings in one year in the world.
  But these senseless acts of violence aren't who we are as Americans. It cannot be seen as normal, as stated by Governor Tom Wolf.
  Are you excited to live in this America?