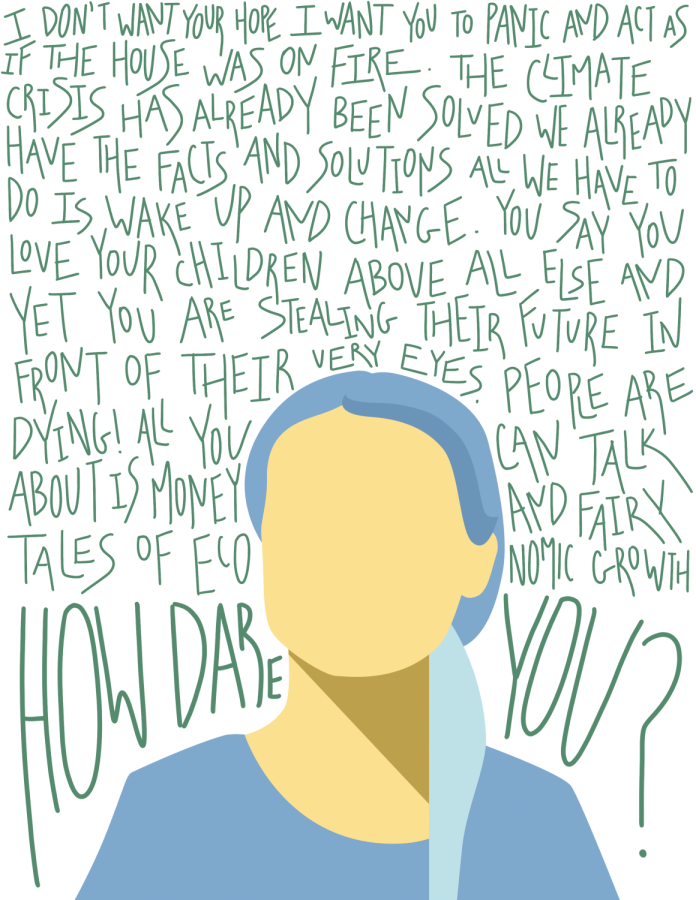 Greta Thunberg: The Voice of a Generation
December 16, 2019
   "Skolstrejk fӧr Klimatet:" climate strike.
   A simple message on a cardboard sign, and Greta Thunberg was able to alter the course of our planet.
   As a Swedish climate activist who has addressed the United States Congress and the United Nations and has inspired the largest global climate strike in history, Greta Thunberg is a symbol for progress.  
   It began with her sitting alone with her sign for three weeks on the steps of the parliament building in Stockholm. Now, over 1.5 million young people worldwide have followed in her footsteps, fighting for their futures.
   Thunberg is 16 years old. To some, her age is offensive, it is crude, and it is threatening. Older generations feel uncomfortable with the idea that a teenager can hold power. They are afraid of change, and a teenager telling them how to change is out of the question. This can be seen in many tweets directed towards Greta Thunberg written by people of older generations — including President Trump.
   After Thunberg's UN address in September of 2019, President Trump wrote sarcastically, "She seems like a very happy young girl looking forward to a bright and wonderful future. So nice to see!" 
   Greta retaliated by making this quote her biography on her Twitter profile, holding her head high as she often does when facing backlash. 
   According to the Los Angeles Times, Trump had attended the UN Climate Summit that Thunberg spoke at — for 15 minutes. He stopped by on his way to an event about religious freedom. 
   President Trump has blatantly proven that he does not believe in climate change. 
   In November of 2019, Trump announced that the United States would be withdrawing from the Paris climate accord, even though the U.S. is the second-largest emitter of greenhouse gases in the world — right behind China, who contributes to 29 percent of global CO2 emissions, according to the Union of Concerned Scientists. It seems our government has abandoned the fight against climate change and has chosen to remain blissfully ignorant.
   Donald Trump proved it himself in 2012. "In the 1920's people were worried about global cooling — it never happened. Now it's global warming. Give me a break!"
   Some people in power simply refuse to acknowledge that global warming is harmful.
   According to the Environmental Defense Fund, it is dangerous to ignore the threat of global warming — if we continue on this same path, our global temperature will rise by around 1.5 degrees celsius by 2030. It is even more dangerous for a government official with as much power as the president to deny the existence of climate change, telling their people to simply ignore this problem and wait for it to go away on its own. But it won't go away on its own. 
   Greta Thunberg works to combat the ideas of those in power in order to instill change in the youngest generation. Young people have to fix things because the youth is the group of people who have to deal with the effects that global warming has caused. Their world could be cut short, and they need to do everything in their power to prevent that.
   Thunberg has worked to inspire young people to protest in the name of climate change. In August of 2018, she founded "Fridays for Future," for which she took weeks off of school in order to stand outside Swedish parliament in protest, encouraging other students to do the same in their countries. This won her the Ambassador of Conscience Award presented by Amnesty International in Washington D.C. She addressed the United Nations twice at the age of 16, and she sailed to the meetings instead of flying in order to release fewer emissions. 
   In September of 2019, she lead the largest climate rally ever recorded with 4 million people, mainly schoolchildren, participating worldwide. Around the same time, she testified before Congress to tell the two House committees to "do something." 
   Throughout the few months that Greta Thunberg has been in the spotlight, she has become a voice for a generation. She is not afraid to talk back. She is aware of her influence, and she uses it to inspire young people around the globe to use their voices, because no matter how many times adults tell children and teenagers that they don't know anything, there is always a way to prove them wrong.
   According to Thunberg, this generation has had an important task fall at their feet. The future of this planet is in the hands of young people, and, as long as we refuse to accept the reality the people in power have created, we can avoid the end of the world. 
   That's what it has come down to; we need to delay the end of the world.
   Global warming has become too big of a threat to ignore. Therefore, young people must protest alongside Greta Thunberg, fighting back against the non-believers.
   The next climate strike in Los Angeles is scheduled for Dec. 6.
   Do something. Take back your planet.