For Your Health: the steady rise of Enterovirus in the United States
This season, what starts as a seemingly normal cold can turn to surprise you. Non-polio enterovirus D68, a common virus, has caught the attention of health authorities like the Center for Disease Control (CDC) and the World Health Organization (WHO) with the largest outbreak recorded. By Sept. 16, 12 states had confirmed cases; by Sept 25, 38 states had 226 confirmed cases.
Enterovirus originated in Calif. with the earliest case in 1962. It is responsible for 10 to 15 million infections a year ranging from infants to teenagers, particularly those with asthma. The first death resulting from the illness was the case of Eli Waller, a four year-old in New Jersey along with four other children. Mild symptoms include fever, runny nose, sneezing, coughing, and muscle aches, whereas severe symptoms can cause wheezing, dehydration, reduced alertness, and various skin conditions. For some, difficulty with breathing became so acute that they were transferred to the Intensive Care Unit (ICU) to be put on a ventilator. One year, two children were paralyzed, and were only able to recover motor functions over a period of several months.
"It's one of more than a 100 of non-polio enteroviruses transferred from person to person via contact," said West Ranch health assistant Kathy Cooper.
The viral infection is classified as an ribonucleic (RNA) virus. It stores the genetic information that wreaks havoc on a cell in its RNA; this gives the viral infection a higher mutation rate as opposed to a deoxyribonucleic (DNA) virus. Health officials are seeing an increase in hospitalizations due to the rarity of the type of enterovirus.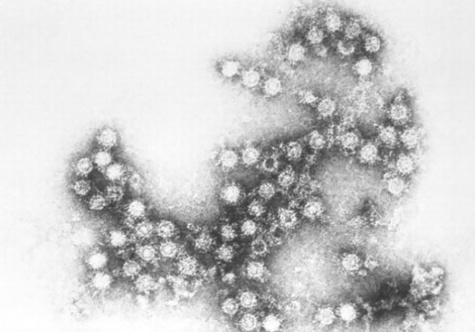 Enterovirus may also affect the motor neurons, causing muscle weakness and paralysis in the limbs. Of the ten children that were hospitalized in Colorado for muscle weakness, six of the eight children tested were positive for the virus. Doctors do not know if this year's strain will cause permanent damage to the motor neurons affected; moreover, they aren't even sure if this year's cases are connected to enterovirus.
Tracking the virus is proving to be difficult; samples from children with respiratory illnesses can be tested for the infection, but the results cannot be separated from rhinovirus, the the virus at fault for most common colds. The CDC is working with state and local health departments and labs to study and analyze the virus. Because there are no vaccines or specific treatment, health officials have to rely on symptomatic treatment: a general technique where the symptoms of the virus are targeted in an effort to relieve the patient.
"[Doctors] don't know what works, so it's on a case by case basis," said Cooper. "It mostly depends on the state of wellness before the infection."
Although there are no vaccines, students can follow one simple step that goes a long way: washing hands. The virus is transferred by contact with infected patients or surfaces, so investing in hand sanitizer is well worth it.
The unusual increase in hospitalizations could be just the tip of the iceberg for severe cases.