College Football Season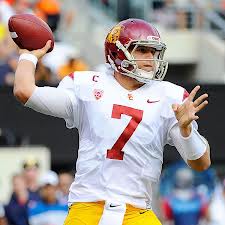 Hello, football fans! Welcome to a new season of college football. Football followers have much to look forward to as many new teams expect exciting games this year. Upsets are a big part of this sport, and already in the first couple weeks, many top teams, such as Arkansas, Wisconsin, and Nebraska have fallen from their previous rankings.
For all you Trojan fans, USC, led by returning quarterback Matt Barkley, and two of the nation's best receivers, Robert Woods and Marquis Lee, looks to have a tremendous bounce back from their four-year bowl probation. However, after their upset loss against Stanford, they are no longer expected to be one of the top contenders for this year's national championship. USC will still try to gain as many bowl options as possible.
"Matt Barkley coming back was better than a Christmas present," said Mrs. Brosche. "It is going to be a great year."
Another big challenge for USC will be against the Oregon Ducks on Nov. 11. Their complex offense is a challenge for any defense in the country.
The SEC conference, whose teams have won the last six championships, has dominant teams including the defending champions, Alabama. Alabama currently holds the top spot in the country, and will try to defend their championship from last year.
If you are a Bruins fan, have hope, because they have already upset a top team, Nebraska. With new coach Jim Mora, who used to be the head coach for the Seattle Seahawks, UCLA hopes to take advantage of a new season.
As of now, UCLA seems to have been underestimated at the beginning of the year. On the other hand, USC has disappointed many fans.
A new season means new hopes, new dreams. We look forward to watching exciting games this year.
Here's a list of the top season games to look for this year:
LSU at Florida- Saturday, Oct. 6
Michigan State at Wisconsin- Saturday, Oct. 27
Alabama at LSU- Saturday, Nov. 3
Oregon at USC- Saturday, Nov. 3
USC at UCLA- Saturday, Nov. 17
Michigan at Ohio State- Saturday, Nov. 24