Lance Armstrong Retires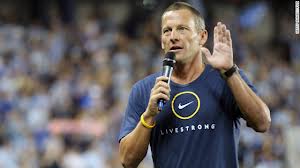 On Oct. 17, Lance Armstrong retired as Chairman from the organization that he founded in 1997 after he gained popularity from winning many cycling races. The foundation known to most as Livestrong is a nonprofit organization that provides support to those with cancer. Armstrong established the foundation to benefit cancer research after being diagnosed with testicular cancer in 1996. After heavy treatment, Armstrong was said to be cancer-free in 1997.
Armstrong started professional cycling at 16, and he quickly moved up the ranks. He is known mostly for winning seven consecutive Tour de France races. Lance Armstrong gained many fans over the years, and because of his popularity, big corporations like Nike partnered up with Livestrong.
However, Lance Armstrong has faced controversy over his career as well. He was many times accused of doping, by rivals and even teammates. Doping is a term used by athletes that means to use performance enhancing drugs. Although Armstrong has been retired for two years, the accusations have become even worse. Although he denied all charges, most people believe that he is guilty. He was even stripped of most of his medals and trophies, including his seven Tour de France titles.
His retirement raised even more questions and controversy. It seemed as if Armstrong wanted to remove himself from the spotlight. To make things even worse, Nike parted ways from Livestrong because they thought the relationship was not benefitial.
Armstrong is one of many athletes that have been associated with doping. In every sport, there are athletes who have used these PEDs, most say that there will always be. Sporting leagues are trying to keep more strict regulations with teams and individuals in order to eliminate the use of enhancing drugs.