Manti Te'o a victim of hoax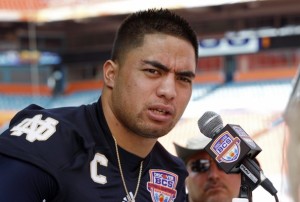 Notre Dame's standout linebacker Manti Te'o was devastated just before the first game of his senior season by the loss of his grandmother- only to find out six hours later that his beloved girlfriend had lost her battle to leukemia. Just three days later he recorded 12 tackles and Notre Dame upset the Michigan State Spartans. He played every game in honor of these two losses. With this new motivation, Te'o led the Fighting Irish to an undefeated season. Many people recognized this tale as the story of the year.
However, only a week after the BCS championship (in which Notre Dame lost to Alabama), it was confirmed that the "girlfriend", Lennay Kekua, did not exist.
Deadspin.com was the first to report on this, and they released on Jan. 16 as their top story.
Te'o has come out and has stated that he is a victim of a fake relationship with a fake person that he was not aware of. Notre Dame has also supported Te'o in his statement.
Te'o earlier said that the only time the couple met was at a Stanford football game, when Notre Dame lost. However it is now confirmed that the two never met in person. Te'o himself has stated that he met "Kekua" online, and the two kept a relationship through social media and phone.
Te'o could be either a naïve victim, or a clever liar. Either way, this story has many things that just don't add up.
Even more questions emerge because two NFL players, Reagan Maui'a and Troy Polamalu claim that they have met Lennay Kekua. What does this mean?
As of now, the media is reporting that Te'o was a victim of a hoax. However, this story seems to be the first of a long chain of events.