Johnny "Football": Long Season Ahead?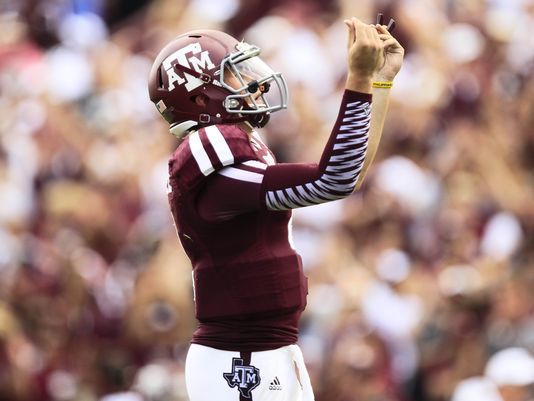 Johnny Football. Have you heard of him? This nickname was given to superstar quarterback Johnny Manziel of Texas A&M last year when he shocked the football world with his stunning abilities to pass, run, and all in all, win games. For his efforts, Manziel became the first freshman to be rewarded with the well-coveted Heisman Trophy as a freshman. With all this success from last year, Manziel became the most popular player in college football. In fact, he was in the news numerous times over the offseason, but all for the wrong reasons.
He was constantly criticized by sports analysts for his inappropriate and somewhat brash social media posts that shed light on a lifestyle that most college football players do not live. Manziel uploaded numerous pictures on mediums such as Instagram and Twitter that showed him partying in nightclubs, enjoying courtside basketball games, or hanging out with celebrities in VIP lounges.
The biggest scandal over the offseason was with the accusations of Manziel signing autographs for compensation. The accusations claimed that merchandise vendors pay Manziel to sign autographs on jerseys, memorabilia, and other goods. He denied it, but because evidence was against him, the National Collegiate Athletic Association (NCAA) penalized him with only a half-game suspension.
Although these mishaps happened over the offseason, they all blew over and people were back to waiting for Johnny Football's first game back. Manziel was quick to make headlines again with yet another set of cocky acts during the first game. Although he had a strong performance and a victory, analysts went back to talking about Manziel not for his play but for his immature gestures during the game. Whenever he made a somewhat decent play, he would automatically do his infamous "get money" gesture. The thing that really angered viewers was that Manziel consistently got into opposing players faces and sometimes even made a "do you want my signature" gesture where he acted like he was signing an invisible document with an invisible pen.
"I think Johnny Manziel is a really good football player with a high football IQ," said sophomore football fan Jake Hettinger. "However, he isn't making the smartest choices off the field, and I think this is bad for him and Texas A&M."
Because of his high skill and abundant praise from fans, countless people believe that Manziel has grown into a different player from last year. Many believe that the once exciting underdog quarterback has transformed into a selfish player who just can't wait to make money as a professional.
It can be said that he has gone went from the most popular player to the most hated player in the college football world.