Varsity Girls Basketball loses in close game against Canyon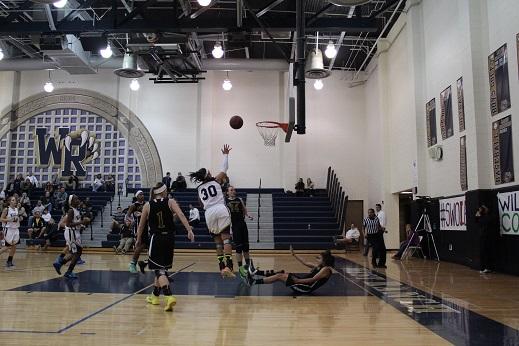 After what seemed to be a hopeful comeback, the Wildcats unfortunately failed to convert on the last play, and lost a close one against Canyon by a mere three points. The last effort by the Wildcats to tie the game fell far short of the basket and the final scoreboard read 47-44.
The team started off the game slowly, and Canyon took a quick lead by the end of the first quarter. Canyon's offense appeared to show dominance when inside the paint, and they utilized their height to get second chance points which extended their lead. This lead was held for most of the game, but revisions made by the Wildcat defense and excellent three point shooting started to cut the Canyon lead – but it was too late.
With less than a minute to go, the score was tied at 44-44. The Cowgirls took the lead when a lucky bounce after a missed shot gave Canyon yet another chance to take the lead. They quickly dished the ball outside the perimeter and a clutch three pointer was made from the wing.
This left eight seconds on the clock for the Wildcats to attempt to take the game into overtime. The coaches promptly called a timeout to draw up a play to tie the game.
The ball was inbounded, and sadly, the play rapidly spun out of hand. A swarm of Canyon defenders made the Wildcats chuck up a hopeless shot when the final buzzer rang.
"I'm disappointed they lost, but it was a really entertaining game," said sophomore Brandon Salinas. "I really enjoyed it."
Despite the loss, the girls showed discipline and signs of greatness with the steady comeback they were able to orchestrate late in the game.
The team's excellent three-point shooting kept them within reach of the game, and solid defense started to show late in the game. They showed promising signs of efficiency during periods in the game.
If the team can build on consistency, they will win their games.
"We didn't get the results we wanted, but at the end of the day, we know we fought our hardest until the clock said 0:00 in the fourth," said guard Jill Wyman. "We kept our heads up."
The team hopes to earn its first win of the season against Saugus on Tuesday.