West Ranch Welcomes New Girls' Volleyball Coach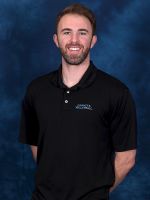 West Ranch's girls' volleyball team welcomes its new coach Brandon Pank. Coach Pank is anything but foreign to West Ranch as he previously served as an assistant coach in the 2008-2009 season. Aside from coaching here at the Ranch, Coach Pank has spent many years coaching and playing volleyball for various schools and colleges.
"I've played for four years at the club level and I have a couple of junior Olympic medals. I also played during college at California State University Northridge as an outside hitter," said Pank "I then started coaching club about seven years ago."
In addition Pank has coached 27 different teams and volunteer assisted on two colleges as well as coaching at Alemany High School and Notre Dame High School.
As a coach, Pank enjoys building relationships with other people on the court. "Whether it be girls or boys, young or old, finding a way to have them understand your dialogue on a personal level so you can get them to perform the way you want them to is what makes me passionate about my job."
Sophomore Katie Jacobs has been well acquainted with Coach Pank and has worked closely with him for many years on current and previous volleyball teams. "As a varsity coach he is very organized," said Jacobs "He also knows how to communicate with us effectively and not in a way that is harsh. He definitely gets his message across and really knows how critique us on small things that make us so much better in the end."
"We're training our butts off," said Pank "We're doing a lot of skill based work and we're trying to get the biomechanics down first, then we're working as tactically as we can."
Apart from working on skill, Pank expressed that he feels it is also important to include fun and laughter in each practice so the team can continue to build close relationships with one another.
"I've enjoyed my time here at West Ranch so far," said Pank "Everyone has been very warm and welcoming."
With Pank's experience and dedication there is no doubt that West Ranch will have trouble maintaining last year's record.