The Battle of Los Angeles (and West Ranch too): Bruins and Trojans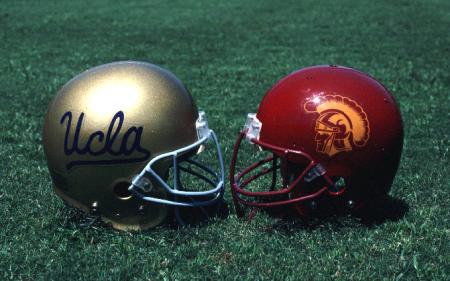 Whether you like it or not, living in Southern California means you are part of the USC vs. UCLA craze. Every sporting event between the two teams draws a great deal of attention, but attention peaks at the "Crosstown Showdown," the annual football game between the Bruins and the Trojans.
The 2000's saw a Trojan-dominated era, with USC winning nine out of the 10 games. During this stretch of time, USC proved itself as a national championship-caliber team, and UCLA was far behind, losing season after losing season.
However, in recent years, UCLA has become a solid team in the Pac-12 conference. In fact, they have turned the tables on USC by winning the last two head-to-head matchups. At this point in this year's season, the two teams are very close; UCLA boasts a 6-2 record while USC is right behind with a 5-3 record.
Although neither team is considered a title contender, especially with the SEC conference dominating three of the top four spots (surprise, surprise), the USC-UCLA game has the same magnitude and importance as a championship game for players and fans alike.
Even at West Ranch, students get excited for the game, wearing blue and gold or red and yellow throughout the year to show support for their team. However, teacher-alumni know best about the rivalry and what it means to a true Trojan/Bruin:
Casey Burrill, head baseball coach and web design teacher, went to USC with a baseball scholarship after building close ties to coaches there. He looks back at his Trojan days as the "four and a half greatest years" of his life, and says he would definitely go back if he could. He didn't miss a single game during his time at USC, and even now, gameday is a big deal. For him, the rivalry game is not simply a day of cheering for his Trojans, but a "religious week." In fact, he drags around Bruin dolls on the floor, and supplies students who bash UCLA with a little bit of extra credit.
"Brighter people go to USC," he said.
Tanja Brosche, a math teacher, is another Trojan on campus. Originally from Chicago, she "fell in love with USC" during a college tour when she learned that she could earn a bachelors degree, a masters degree, and a permanent teaching credential in a span of five years. Brosche is thankful for the meaningful education provided by SC, as well as the fact that she met her husband there. As a member of the acclaimed USC marching band, a group she calls "family away from home," Brosche was at every home game in addition to some away games. For every game that she can, Brosche follows traditions, including a day long tailgate party.
"Don't be afraid of the neighborhood at SC," she says. "It's not the best neighborhood, but that is one of my favorite parts. USC takes a huge amount of pride in its community service and how it helps the people in our community."
Sharing the same campus as these teachers are some Bruins.
Ron Manalastas, science teacher, went to UCLA to study physiological sciences after transferring from COC. He lived out the UC experience to the fullest. He joined a frat house, and the group had tailgate parties and tried to attend every Pac-12 game, both home and away, despite the travel many of the games required. Before UCLA went on its losing streak, when they were a competitive team, Manalastas brought the rivalry to West Ranch, by decorating Burrill's classroom in the famous Bruin blue and gold. As UCLA continues to improve, Manalastas looks forward to this year's installment to the rivalry.
"UCLA has the better programs in both academics and athletics," he said. "USC? University of Second Choice."
Andrea Molina is another Bruin teacher. After graduating Canyon High School and receiving a grant to attend any university in California, she debated between UCLA and USC before committing to the blue and gold. She decided to go to UCLA because she liked the programs there better as well as the "prettier" campus. Molina had an unorthodox college life, balancing two jobs, classes, as well as volunteering with her sorority. Despite her hectic schedule, the Lady Bruin feels that UCLA provided a unique socially minded aspect to education that empowered her through college. During school, she attended football games "all the time," and her lasting Bruin pride leads her to still spend some Saturdays at the Rose Bowl.
"UCLA is better than USC," said Molina. "You don't have to pay 60,000 to get a subpar education in the ghetto."
These teachers are Bruins and Trojans at heart, and their dedication to their former schools shows the pride and prestige of each school. The rivalry lives on.
*Watch the game on Nov. 22!