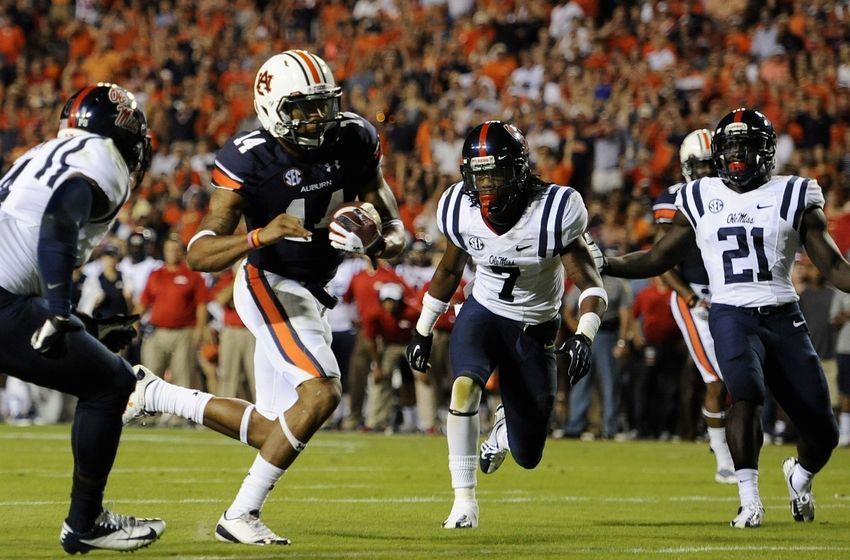 Another week of college football presented more upsets and less teams still eligible for the much anticipated four-team playoffs. High-ranked teams got the opportunity to prove where they belong on the rankings this weekend in three top 25 matches.
The biggest matchup in Week 11 definitely fell with third-ranked Auburn squaring off against fourth-ranked Ole Miss at Ole Miss. Coming into the game, both teams knew a single loss would almost definitely end their national championship dreams. From the kickoff to the final whistle, neither side demonstrated any sort of weakness–the offences continued to bounce back from the other's score every possession. However, the game had to end at some point, and with an Ole Miss fumble at Auburn's one-yard-line with minute and a half left, Auburn was able to escape with a tight 35-31 win.
Coming off of a two game losing streak at home, 22nd ranked UCLA was also able to pull off a close win over 12th ranked Arizona. The Wildcats knew how to pull off comebacks, as they did against Cal and USC in last-second shockers, as they entered the fourth quarter down 17-7 against the Bruins. With a huge field goal block to make it a one-possession game for Arizona, UCLA was able to run time down and prevent the explosive Arizona offence from re-entering the field.
Another ranked faceoff was #14 Arizona State over #17 Utah with an overtime field goal to win it. The win put them in the number one slot for the Pac-12 South with one loss.
Other than that, most of the favorites dominated in the top 25 against other unranked teams. It will be interesting to see how the rankings change on Tuesday after these big wins and losses, and expect to see last-minute pushes by top ten teams to squeeze into the playoff spots.