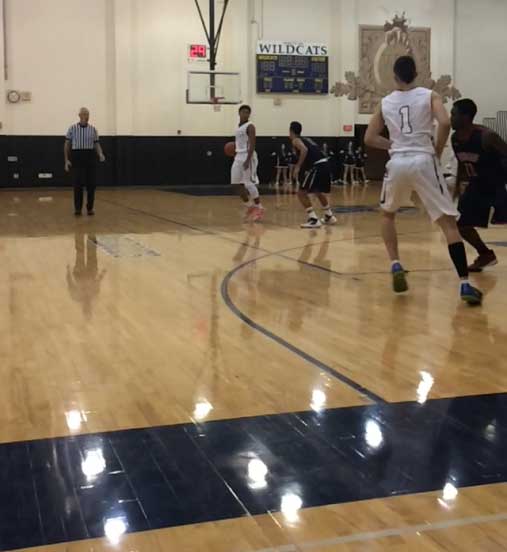 In an instant classic at The Ranch on Saturday Nov. 29 against the Viewpoint Patriots, the West Ranch Wildcats prevailed 68-67.
Freshman combo guard/forward Austin Galuppo hit a buzzer-beating 3-pointer to put the Cats up 1 after a comeback effort. The Wildcats had been down 5 with only 47 seconds left but after three consecutive 3-pointers by Galuppo, climaxing with the buzzer-beater, West Ranch pulled off the unforgettable win.
"I can not think of any better way to begin my high school career," said an overjoyed Galuppo after the student section stormed the court. "I can't tell you how excited I am for the next four years."
Senior guard and captain Ryan Beddeo showed out with an absolutely dominant performance to start his fourth varsity campaign. He scored 32 points and 6 assists.
"I'm just hoping to ball out all year," said Beddeo. "I've been battling injuries all throughout my sophomore and junior years, and I'm looking to finally come through with my team this year."
Galuppo contributed 17 points and 4 rebounds and senior forward Justice Decorsi scored 10 and grabbed 17 rebounds.
"Even though I think that we could have been better in executing late, this was definitely a satisfying win, not just because Austin and Ryan gave us big numbers, but because almost everyone who played scored," said head coach Shant Bicakci. "It was a very balanced effort and that's exactly what we're looking for this season."
In the first official game of the season, the student section showed out, occupying an entire section of bleachers. After Galuppo's buzzer-beater, the students stormed the court and mobbed the freshman, chanting "I believe that we just won!" and "He's a freshman!"
"These nights remind me more than anything how proud I am to be a Wildcat," said junior Claudia Lee.
If this game was an sign for anything in the future, it would be that this season looks to be one of the most exciting in West Ranch history. The next home game is the first game of Foothill League play on Tuesday Jan. 13 against the Valencia Vikings.
#AllCatsEverything