It's Showtime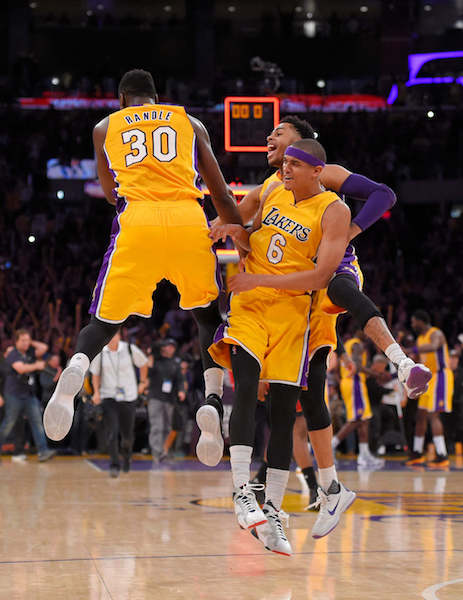 Disclaimer: This story was written before the Lakers collapsed on a six-game losing streak. 
   Kobe Bryant is gone.
   Feels weird to say, doesn't it? It's been roughly eight months since an otherwise abysmal Lakers season ended in the most Kobe-esque way possible. And while the Black Mamba wrapped up the season on a high note and gave fans a brief moment to smile, it only took a short time to realize he was leaving behind a dead, sinking ship of the Los Angeles Lakers franchise.
   At least, that's what most LA fans thought.
   Fast forward to the 2016-17 season, and the Lakers have given themselves a new life. So much so, to the point where they are now called the "Baby Lakers."
   This shouldn't have been the case. The team came in as a mishmash of rookies (including their head coach), overpaid veterans, and a guy who still calls himself "Swaggy P." They were once again void of any superstars and had about as much experience as a youth league sports team. In a crowded Western Conference inhabited by the Warriors, Spurs, Thunder, and Rockets — teams all lightyears ahead of them in talent and development — the Lakers stood very little chance.
   Yet a quarter of a way in, the Lakers find themselves with a near five-hundred record (as of Dec. 3) and a very plausible shot to crack the playoffs. Keep in mind, this is a Lakers team that went 27-55 and 21-61 in the past two seasons. They did virtually nothing except subtract their franchise star and change their coach, but they have managed to jump leaps and bounds in development. Their rise to NBA success is no longer a question of when but now a question of how.
   Interestingly enough, a little change has gone a long way. The loss of Kobe has boosted the team dramatically. As hard as that reality is for any diehard Lakers fan, Bryant was about as useful as the people protesting the election of Donald Trump. Sure, he bestowed some knowledge on the youngsters and provided some invaluable leadership, but in reality, all he did was eat up development time and playing minutes. And with his ball-dominated presence now dissolved, the Lakers have flourished.
   Under a new coaching staff, they own a top 10 offensive rating (29th last season), and their bench units have transformed into of the best combinations of any group in the league. And this team is moving the ball. A lot. Considering this team was home to the league's most infamous ball hog for the past 20-season, this is an impressive change. On the other side of the court, their defense, while still generally disheartening, isn't the complete trainwreck that it was last season (they were dead last in defensive rating last season). And given that this is a very young team who is still fighting through their growing pains, a passable defensive unit will come to fruition in no time.
   Speaking of the coaching staff, the Lakers made one of their best decisions in their hire of Luke Walton. Yes, that Luke Walton, the infamously bad Laker who was atrocious every time he stepped on the court. But where he lacks in playing skill, he more than makes up for it in the coaching department. In just a mere twenty games, Walton has proven himself as the remedy to the toxic environment left behind years of Mike D'Antoni's forget defense philosophy and Byron Scott's tough love and a let-Kobe-shoot-everything approach. He's young, he's vibrant, he actually allows for development, and he understands LA. Walton has been able to craft masterpieces out of raw youngsters and worn-out veterans, and most importantly, he's getting the team to have fun. He has become a miracle worker for a lineup that desperately needed it.
   Take power forward Julius Randle, for example. Before Walton arrived to sprinkle his magic on him, Randle was a struggling lottery pick lost in the fast-paced, three-point orientated NBA. A few months later under Walton's guidance, and Randle is now one of the most effective scorers on the team.
   Randle isn't the only beneficiary; it's clear that all the players are gravitating to Walton's laidback coaching style. Nick Young, the aforementioned Swaggy P, used to be a ball-hogging, shot-chucking airhead who never knew that defense existed. Now? He's still a brash shooter but an effective one, and he actually performs decently on the defensive end. What about Larry Nance Jr., the athletic wunderkind who used to only dunk and rebound? In one short year, he's now a versatile, offensively-capable version of his former self and has been crucial to the Lakers early season success. Look at any player with the exception of Luol Deng, and you will find an incredible transformation from last year's abomination of a team.
   Now, this team is still undeniably flawed and still have a long way to go. For all we know, this early season burst could just be a red herring, and I'll find myself writing another article bashing the  Lakers at the end of the season. But for now, all signs point to this team becoming the start of something beautiful. They are winning roughly every other game, and even when they lose, they do so in style.
From lob-dunks to barrages of three-pointers, this team entertains like they certainly won't win the title this year, but they do have a decent shot at crashing the playoffs. And that's good news for the Lakers fansbase. After all, this is LA we are talking about, made up of the second most impatient sports fans next to New Yorkers.
   And guess what. The wait is finally over. It's showtime.