Orange for Maya
February 10, 2017
  While most high school kids are expecting a new phone or a car on their birthday, Maya Evans was given something that turned her life around.
  The story started in October, when Maya caught a case of pinkeye. Like usual, it took a week to clear up. Unusually, after it cleared up she was left with bumps around her neck and on her head. The doctor told her to wash her hair better, but they only continued to get worse. Maya was in and out of the doctor's taking blood tests and she assured her doctor that it couldn't be mono. At a lacrosse game later that week, she struggled to find enough energy to run and breathe. She visited the doctor's office again and during a physical exam, they found a mass in her abdomen. She was then sent to an oncologist and their first words to her were "Don't worry. You don't have cancer."
  After more blood tests, a CT scan, and a bone marrow extraction the doctors finally knew what was causing her so much pain. On Nov. 7, Maya's parents received results that their daughter had mixed phenotype acute leukemia, a rare mix of both ALL and AML leukemia. Maya was then hospitalized on Nov. 10, the day after her 17th birthday.
  "I was in shock and didn't really 'react.' My parents, however, didn't take it well at all. I could tell they were trying to stay calm but I know they were and are struggling with my diagnosis a lot more than me."
   According to the American Society of Clinical Oncology, "this year, an estimated 10,380 children younger than 15 and about 5,000 adolescents aged 15 to 19 will be diagnosed with cancer in the United States." When you hear statistics about cancer, they just seem like numbers. It's hard to see that every number is a person with a family and a life-threatening disease until you or someone you know has cancer.
  The diagnosis didn't just change her life. It turned it completely around. Prior to the diagnosis, Maya was one of the varsity lacrosse captains and an active member in all West Ranch Pack events. Immediately after the news, she was hospitalized and told that she would not be able to return to school.
  "This is my second semester of my senior year so my schooling is light but my everyday, depending on the day, I get up and go to the doctor. I'm there for a few hours. Then I come home and get in bed. If I don't have to be at the doctors, I stay in bed all day and binge on Netflix."
  Maya has a port that was surgically implanted under her skin. It connects to the major arteries in her neck and pumps her medicine through her body. Although the treatment process can be hard, she has her family, friends, and community to support her.
  "It's incredibly heart warming. I didn't think this many people would care. Receiving all of this support had made coping a lot easier."
  Back in November, Maya was contacted by ASB and they shared their intention to dedicate a basketball game to her. She thought it was a joke at first but as they continued planning, Maya realized that maybe people do care. West Ranch ASB member, Liesl Block, spent months organizing the spiritwear theme for the basketball game that took place on Jan. 17. In dedication to Maya, the game's theme was orange-out, the color of the Leukemia ribbon. Both the West Ranch Pack and the Hart Tribe  transformed into a sea orange. Maya attended the game and led the "rollercoaster", a Pack tradition, at half-time. Liesl also presented Maya with a card signed by many of her fellow Wildcats.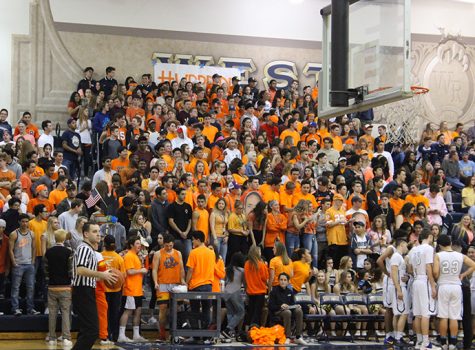 "It was bittersweet for me because everyone knows I love everything Pack related– being in it and leading it– so that was amazing but it was also bitter. Not only is my participation in the Pack a health hazard but this is my senior year and this is the last time I'll get to do a lot of this stuff anyway."
  Although Leukemia has changed every aspect of daily routine, it hasn't changed Maya's positive outlook on life.
  "Well although there is a lot that I could be upset about, I'm alive and there isn't much more I could ask for. I stay positive by reminding myself of how blessed I am regardless of what is going on now. I have people that love me, I have all of my limbs, and I have a roof over my head."
  From Maya's personal experience with cancer, she encourages others to "stay positive and surround yourself with people who love you. Isolating yourself from your friends isn't the way to go. Being left with your thoughts can only make this worse. This may seem like a dark journey but there's always light at the end of the tunnel."