West Ranch Girls' Basketball Senior Night
Hang on for a minute...we're trying to find some more stories you might like.
As the team walked through the navy blue doors dressed in full uniform for the last time this season, team parents presented seniors Izzy Singer and Ashley Woodhouse with flowers and gifts and thanked for their participation in the girls' basketball program.
"Senior night was one of the hardest nights for me throughout the whole season," said Woodhouse. "I realized that this is the end to something that I have dedicated four years of my life to."
Woodhouse proved to be an aggressive rebounder and powerful post-up player while Izzy Singer came through in tough moments to knock down 3-pointers.
"It was weird and surreal to play in my last game after four years on varsity," said Singer. "There were a lot of emotions and I was sad after."
The senior recognition was an emotional beginning to the start of an intense game. West Ranch started off the night leading Golden Valley 20-8, but went silent and ended the first half tied at 20. Golden Valley had a strong third quarter and took the lead to end the game with a 53-40 win over West Ranch.
"Despite the loss, I think that as a team we played really well," said Singer.  "It was good to see everyone come together as a team for my last game. I had fun."
"I played almost every second of the game, and during the last thirty seconds, I received a standing ovation from the crowd," said senior Ashley Woodhouse. "We fought hard to make a comeback even though we didn't quite get there."
After four years on the high school team, both seniors participated in many momentous events that highlighted their careers.
"During my freshman year, I was the point guard and leading scorer," said senior Woodhouse. "I earned an offensive award as well as a MVP award during the Rosemead tournament. Now in my senior year, I became a starter as well as team captain for the varsity team."
"Our first win against Golden Valley was definitely a highlight," said Singer. "We finally got that league win and everyone contributed. The whole team came together."
To celebrate the end of these seniors basketball career, the entire team watched the boy's varsity basketball game and then enjoyed dinner at Toppers pizza.
"Lots of tears were shed," said Woodhouse. "I will never forget my time here at West Ranch."

About the Contributors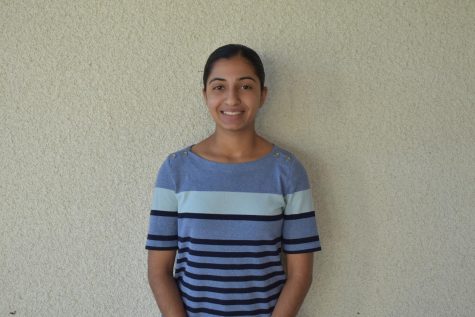 Jasleen Arora, Sports Editor
Hi Wildcats, my name is Jasleen Arora and I am the sports editor for this year. I am excited to bring you the best sports coverage on our talented sports...