Girls Tennis Wins at Clovis
Serve, return, rally, error. That's how most points go for the girl's varsity tennis team here at West Ranch. Then game, set, match. The girls, for the first time in history, took home the win at Clovis.
But it's not really that simple. The West Ranch Varsity Tennis Team had to go through weeks of hard work, and defeat many other teams at Clovis, like Redwood, Palisades, and Santa Margarita, before the victory was declared theirs. They've worked on forehands, backhands, and volleys: the key elements of a match. The team also practiced long hours of serves, most reaching speeds into the high nineties, and technique. The girls play either singles or doubles.
Danielle Hettinger, senior, is the captain of the team and is paired with sophomore Chase Eisenberg. This win was very memorable for Eisenberg since it has never happened before, but also because it is her first year on varsity.
"It was a really amazing experience to be a part of. There was a lot of team spirit which really helped me and my partner go undefeated!" she said with a smile.
Hettinger has her own reasons to be excited this year.
"It's pretty exciting to know that that's how I get to leave my legacy and leave my mark on the school like that, especially since last year our team got second and my match was the deciding match and my partner and I lost in the tiebreaker. So it was pretty cool for us to turn it around this year and win. I'm really happy!" she said.  
All of the girls on the tennis team are like a family, and they kept making memories on and off the court, from fun hotel stories to dinner outings with the team.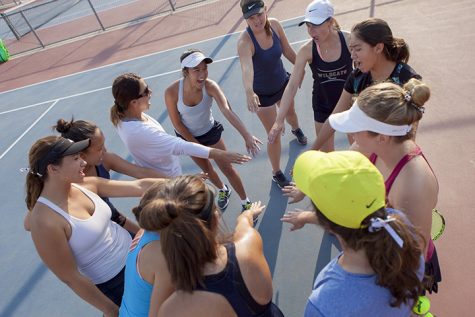 Coaches Dina McBride and Dody Garcia could not be more proud of their girls. "Unbelievable!" McBride said. "I was so happy. This was the first time in four years that we accomplished that, coming from Division 3 to Division 1. And then every girl made that happen; there wasn't one star, it was every girl. The whole team was amazing."

As for the rest of the year? Let's hope that West Ranch can keep up their winning streak and be undefeated league champions yet again.
Captain Hettinger leaves us with what she is most excited for during season: team spirit and getting pumped for matches. "I feel that the energy we have from all of the girls this year, especially the freshmen, is just really special and I can already tell that we're going to have a great year!"