Behind the Scenes of West Ranch Cross Country
For most of us, running is a harsh requirement that coaches and P.E. teachers impose on students and is about as enjoyable as walking over hot coals. Some, however, live for the adrenaline that pumps through their veins while sprinting to the finish line. West Ranch is home to a group of talented individuals that passionately pursue the rigorous sport of cross country and love every second of it. Although these students are some of the most dedicated athletes on campus, many are unaware what running entails and the type of training required to run competitively.
"It's really empowering. You know you have to be in really amazing shape to do the kind of training we do," senior Mari Dobbs said during practice.
Runners meet up at the set time and place depending on the day of the week. Their practice could take place anywhere from Bridgeport to their home base: West Ranch. Although running a mile is exhausting enough for the best of us, cross country team members can withstand practices that range between a workout of six to twelve miles. These strenuous practices are mostly self-sufficient and student-run.
During practices, the athletes learn to pace themselves in preparation for long, arduous competitions.
"I pace myself by seeing how other people are doing around me, I pick someone I want, and then I go for that person," said Evan Bates. By repetitively training to run long distances, members of cross country are always well prepared to tackle the extensive stretches they must run during competitions.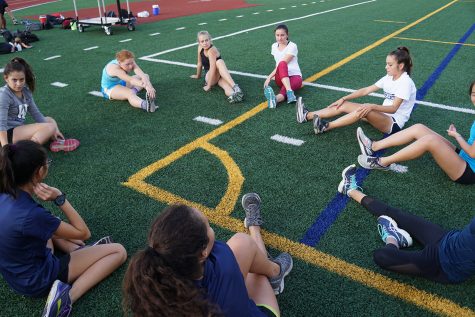 On days prior to important meets or races, the cross country runners indulge in several plates of pasta to prepare themselves for the next day. The team fondly refers to this tradition as their "pasta feasts" where they make sure they're loaded with carbohydrates and are getting into their racing spirit with their teammates.
Every runner's motivation to pursue the sport stems from unique experiences. Bates revealed that his inspiration is derived from the accomplishment of crossing the finish line, knowing that not many people can do it.
On the other hand, Jonathan McDaniel found his passion for running after being turned down by a Valencia coach.
"I had another coach start training me who said that I actually had potential, so then I decided to actually take it seriously," he said.
Although each runner loves their sport, it can be physically taxing. Runner Abby Welch remarks that, "when you cross the line, all the pain suddenly comes to you so you have to spend three minutes after a race just trying to get yourself together. After that, it feels really good because it's over!"
Cross country affects varying aspects of each athlete's life, whether it be within school boundaries or outside them. The runners can all agree that practicing so often and uniting to pursue a common goal has strengthened their bonds as teammates. Unity amongst athletes is of unparalleled value and is often the key to success.
"Everyone is just one huge family," Welch said. "We see each other outside of practice all the time, and it just caused me to be able to create so many great bonds with people I didn't think I'd normally be able to become friends with."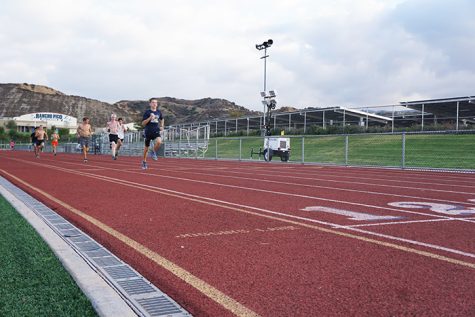 At the end of the day, West Ranch cross country is not just a team, but a family that pushes one another to reach their potential and embody their best selves. Although blood, sweat and tears are shed from time to time, the hard-working athletes continue to pursue their goals and are willing to train for countless hours to achieve them. Each practice and race brings them a step closer to attaining their aspirations not only athletically but in every facet of their lives.