Hyeon Chung: The highest ranked South Korean tennis player of all time
March 20, 2018
  Tennis is often generalized as one of the easier, less-intensive sports that people can take up. Just hit the ball hard enough with a stick to make it go over the net, right? While this remains a common misconception, those who have played the game and refined their technique for years know just how challenging stepping out on that court can be. It requires speed, endurance, precision, and the utmost patience. One up and coming Korean player has utilized these skills to defy the odds and make history both for his country and tennis.
  Hyeon Chung, a 21 year-old player from Suwon, South Korea gave a spectacular performance this past month in Melbourne. He has become the first Korean man to make it to the semi-finals of a Grand Slam tournament as well as the highest ranked Korean in ATP (Association of Tennis Professionals) history. His path to this achievement hasn't been easy as he is constantly having to evolve his training to increase his strength and court coverage.
  Chung first discovered his passion for tennis at the early age of six; however, surprisingly, it didn't come from a push from his parents despite his father being a coach. The sport actually entered his life through a recommendation from his doctor. Chung was born with unusually weak eyesight and was told that looking at the bright green color of tennis balls would help strengthen it. That's why you'll never see him out on a court without his white sports glasses. People in the tennis world have voiced concern over this particular accessory as it is usually seen as a hindrance, but Chung has said that he sees it as an essential part of his body.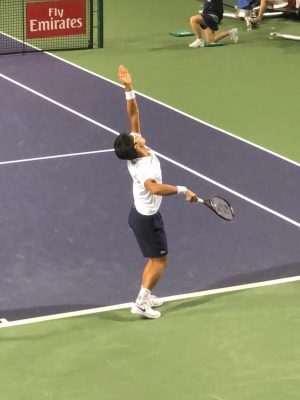 After going pro in 2014, Chung has not stopped improving his game. Intense training in Florida, Korea and Thailand landed him the ATP Most Improved Player of the Year Award in 2015. His incredible speed and coverage of the court have been noted as some of the most impressive set of skills seen in a player for quite some time. With a two-handed backhand and a right-handed forehand, he incorporates sliding into his game to reach impossibly short dropshots and drill his opponents with jaw-dropping winners.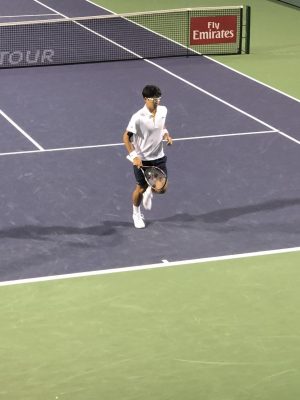 Although he has been recognized in the tennis world as a rising star, Chung's fame reached new heights after his run in the recent Australian Open where he took down former world number one, Novak Djokovic. He finished out the quarter finals with another impressive win against world number five, Alexander Zverev. With every match, he attracted more and more fans while continuing to pull off a number of unbelievable shots. By the time he reached the semi-finals against world-favorite, Roger Federer, he was set to truly make tennis history. Unfortunately, his favorable run came to an end when he had to retire from an extreme case of blisters.
  Despite Chung's early retirement in that particular match, players and fans alike are marveling at the new force on tour who, at the young age of 21, has a very promising future ahead of him. Tennis has never been a popular sport in Korea, but thanks to Chung, young people across the country are starting to give it a try. As for me, a Korean tennis player as well, I am so proud of everything that Chung is accomplishing and look forward to seeing all of his future wins.