Boys' Volleyball Season Review
May 29, 2018
   Under the new head coach, Brandon Johnson, West Ranch Boys' Volleyball was able to accomplish a very successful season. The Wildcats won the Foothill League title with a record of 10-0. They have won the title for the past three years without dropping a single game and are currently 30-0.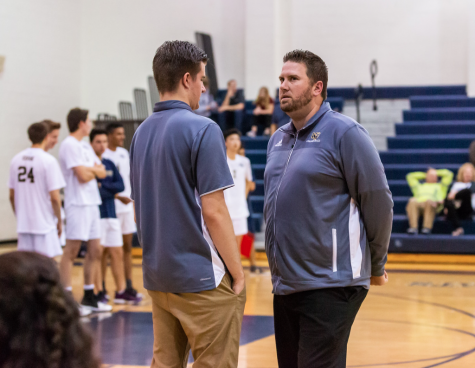 However, the Wildcat's accomplishments did not just end at the court. They were awarded the CIF Academic Award and were honored at Angel Stadium. Unfortunately, the season came to an unexpected end when the team lost to Beckman High School in the first round of CIF Division 1 playoffs.
  I had the opportunity to sit down with Coach Brandon and ask him a few questions about the 2017-18 season.
  Q: What were some aspects that the team exceeded at?
  A: We were a really cohesive unit on the court. We played aggressively, we played with passion, and we played for each other.
  Q: What are some aspects the team needs to improve on?
  A: As is the case with high school teams, we tended to make too many mistakes. But they were aggressive mistakes and that is something I could live with.
  Q: What did you expect for the season?
  A: I came into summer camp with very little expectation. However, as soon as I saw the talent we had, I knew that we had a special group that could compete with anyone.
  Q: What do you expect for next season?
  A: We lose a fantastic group of 10 seniors that will be sorely missed. However, we still return a great group of athletic and skilled players that will allow us compete for another league championship.
  Q: Just an overall thought about how the season went.
  A: The boys had a terrific season. I couldn't be more proud of their accomplishments on the court, and even more their accomplishments in the classroom.
  Q: A word for your seniors and your upcoming team.
  A: #aggressive #disciplined #beamazing
  Congratulations to the 2017-18 West Ranch Boys' Volleyball team for their victorious season and to Coach Brandon on a very prosperous first season!
  Go Wildcats!