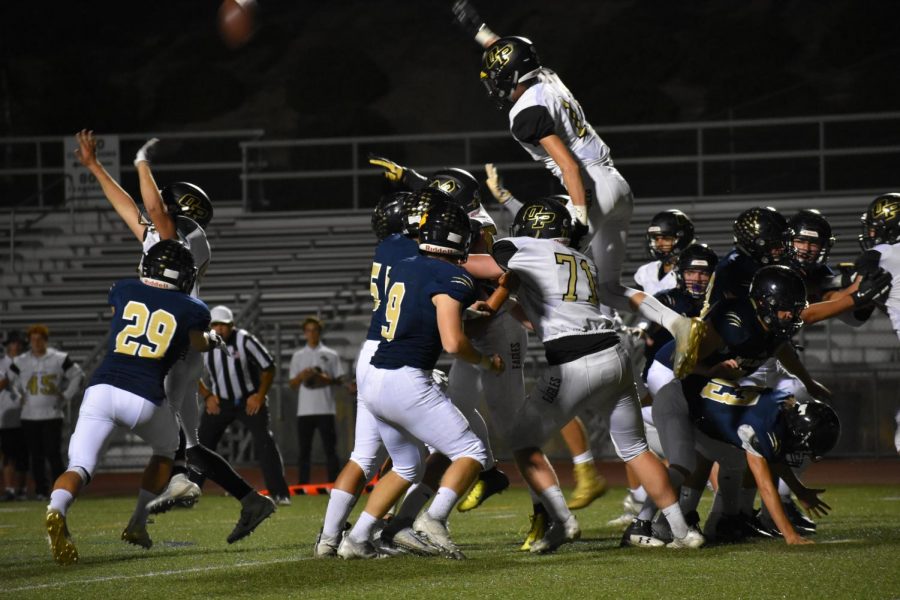 On Sept. 14, 2018, West Ranch football put on their ruby slippers as they ran down the yellow brick road, ready for the annual homecoming football game against Oak Park High School. Coming off from their 42-24 win against St. Genevieve, the football players used that momentum to help push for the win at the homecoming game.
  The theme was "Wizard of Oz," so while the students were decked out in black or "Wizard of Oz" costumes, the football players were concentrated on the long game ahead of them.
  The game started out with Ryan Camacho stealing the spotlight as he scored two touchdowns, making a quick 13-0 lead.
 But that was not the only spotlight Camacho stole that night. He also set a new school record previously set by Jake Rice in 2017. He scored five touchdowns and ran 330 rushing yards during a single game.
  Throughout the game, Ryan Camacho, Jackson Reyes and Zack Van Bennekum all scored a total of seven touchdowns for the Cats.
  West Ranch concluded the game with a whopping 56-0 points, and took the win.  
  Coach Varner said, "We may have won this game, but we don't want to dwell on it too much. We just have to keep improving and working hard. But otherwise, I am so proud of my boys, and it's a great way to start the season."
  While West Ranch High School marching band was playing pep tunes throughout the game to hype up the football players, West Ranch Cheer and West Ranch Dance performed during the halftime show that even Oz would have been proud of. The halftime concluded with Hope Jin being crowned homecoming queen.
  A sophomore base in the cheerleading stunt groups, Samantha Ilan, says that "cheer really hypes everyone up. It gets the boys going and makes them motivated."
 The Cats' season just keeps better and better as they win more and more games. With a passionate crowd supporting them, they hopefully will continue their winning streak. For now, there is no place like winning the football game.
  Make sure you come out and support the team on their next home game on Sept. 28 against Golden Valley High School.