Who's the Man? Mr. Manalastas Q & A
With all the changes that happened last year, we had the opportunity to talk with Mr. Manalastas about his thoughts on approaching his first full year of coaching varsity boys basketball.
Q: How did you first get involved in coaching?
A: A few years ago, I was asked if I would ever be interested in coaching again, and I said "in a few years maybe." When I thought about the capacity of what I wanted to do, being a head coach wasn't right there yet. I wanted to slowly get back into it. Last year, when certain circumstances arose, I got approached by admin asking me if I was still interested in coaching and wouldn't mind helping out? I said that I wouldn't mind, but I wanted to check in with my family and make sure that's something I can do because if I don't have their approval, I'm not going to do it.
Q: What is your previous coaching experience?
A: I started coaching back in 1994. I was a girls basketball coach at Saugus. I started off as the assistant coach for the girls varsity team, and then they gave me the girls junior varsity team. I left Saugus as the varsity coach and when I moved to West Ranch, I started the girls basketball program here. I was the girls varsity coach for five years. After that, I made a brief run with the boys because my buddy, Mr. Lago, was the head varsity coach, and I told him I wanted to help out. I did for a few years, but when I got kids, I stopped.
Q: How did you end up as the coach?
A: At the end of last year, I was just helping out. They opened up the job to anyone who wanted to apply. Again, I had to talk to my family and see if it was okay if I applied. I went through the interview process along with some other candidates and eventually got the job. It was something I wanted to do and had the support of my family, so I went for it.
Q: How would you describe your coaching style?
A: My philosophy has changed over the years. Before, I was just one of those it's all about basketball, basketball, basketball. Over the years, I realized that there are other things more important than basketball, but not to the extent where one supersedes the other. There has to be a good balance. In terms of what I do now, I like to run. I like to make it fast. I want the game to be fast; its fun that way. It's fun to watch and fun to play. That's the approach we've been taking with our guys. We press, and we run.
Q: How have you seen your players adapt to the changes made to the program?
A: I think at the varsity level there is really not much adaptation. There are certain mannerisms and quirks that they do that I will never like and always want to change. But you change those slowly over time. But in terms of adapting to anything new, if you are a varsity basketball player, that means you can play. That means you understand the game. So installing a new offense or defense shouldn't be that difficult to do. Regarding implementing a new system, our players pick it up pretty quick. Now it's just demanding it from them, making sure I get what I want.
Q: Regarding the changes you made, what are some things you've done and still plan to do?
A: It all depends on our opponent. But we press. It's something different we haven't done in a while. We want to push tempo. We've also been working on our transition offense. Getting those rebounds and pushing that ball as quick as we can up the floor. So in practice, they have to run something within a specific time frame and if they don't do it, there are going to be consequences.
Q: What are your goals for this season?
A: I think the number one goal I have is to make the players better than they were before they walked in that door. In terms of an individual goal, I want to be able to build and establish a program that is going to be solid this year and for years to come. A team goal, of course, is to win a league title. I just want those kids, especially this years group, to have a chip on their shoulder. I really believe these kids could've showcased more of their talents last year. Now, part of that's my fault; I didn't know them very well and what they could do. But now that I know them, I hope they have the mentality of wanting to prove me wrong. Hopefully, that will translate into success.
About the Contributor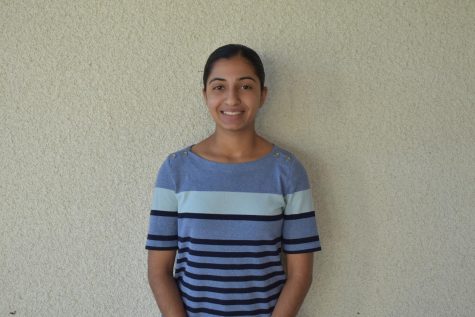 Jasleen Arora, Sports Editor
Hi Wildcats, my name is Jasleen Arora and I am the sports editor for this year. I am excited to bring you the best sports coverage on our talented sports...