A New Era in Sports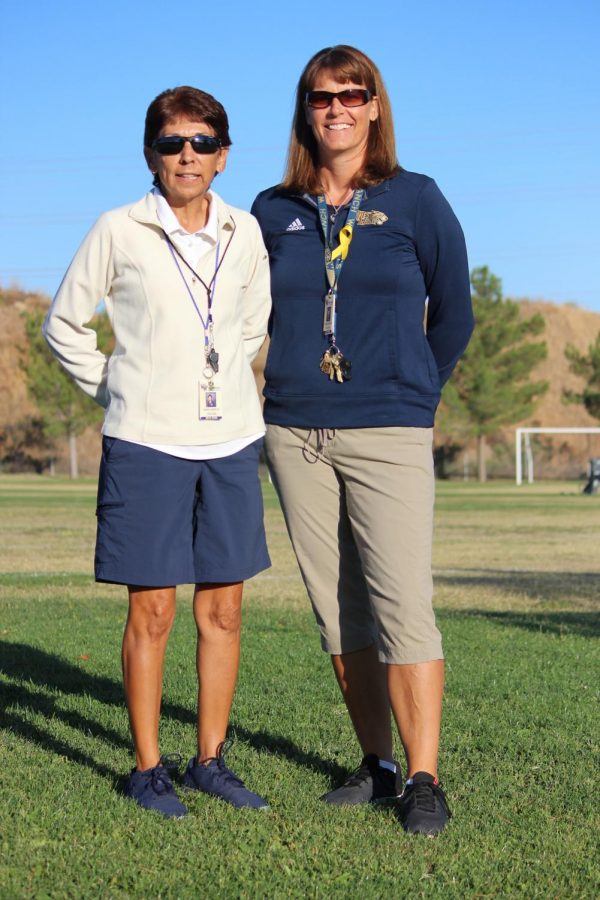 Harneet Arora, Sports Editor, Copy Editor in Chief
November 1, 2019
With many talented sports programs here at West Ranch from our talented volleyball teams to our award winning tennis teams, the coaches and athletes can attribute much of their wide-ranging success to the backbone of the entire operation: the athletic directors. 
With over 15 years of experience under their belts, new athletic directors Ms. Dody Garcia and Mrs. Anne Konrad hope to continue to lead a successful program here at the ranch. Having been coaches for individual programs in the past, Garcia and Konrad are excited to see the impact they can have on West Ranch athletics as a whole.  
"There is always room for improvement with anything whether its teaching kids sportsmanship or helping our coaches increase their level of intensity with the competition that we play," said Garcia. "Above all, we just want to make sure that students are getting a good high school experience and that involves athletics as well as academics. We just want to continue the excellence that has been here before."
Being an athletic director comes with a lot of new responsibilities. Garcia and Konrad work anywhere from eight to 12 hours daily, sometimes longer, engaging in a variety of tasks all dedicated to the coaches and the athletes. 
"We interview coaches, do all the paperwork for scheduling and for student's physicals, and anything that has to do with paperwork for the students that we need to verify their participation," said Garcia. "We do grade checks, schedule other games, and then we just monitor, observe and supervise all contests."
This is the first year in history that there has been two athletic directors, and there are no two better individuals for this position than Ms. Garcia and Mrs. Konrad. There are many advantages to dividing this position for everyone involved. 
"Having a co-athletic director helps all the programs in the long run because now there are two contact people for the coaches to reach out to and for all the student athletes," said Mrs. Konrad. "We are able to be at more events, and we are able to cover more of the responsibilities that we have by splitting duties as far as the administration part and the supervision part. So I think it takes a load off of one person. It's still a lot of work, but Ms. Garcia and myself work really well together, and I think that we can try to make things as efficient as we can for our coaches and our athletes." 
With new athletic directors and new athletes, the student body has high expectations for the 2019-2020 school year. This will be the beginning of a new chapter in the sports department that will benefit both student athletes and coaches.