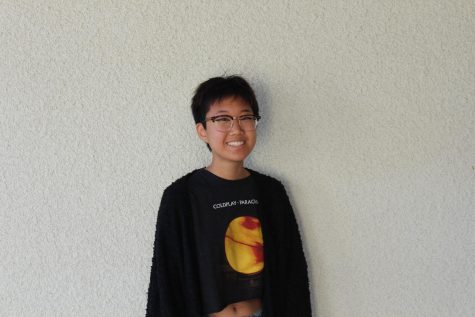 Mina
(no middle name) Jang is in her last year of West Ranch. She loves to write about people and the world around her. Every Thursday, you will find her in Room 206 for a club called Literary Magazine. (Go to this website:
www.wrsuburbia.com
!!! You will not regret it!)
Mina
now uses earphones instead of headphones, because she realizes that when The Mamas and Papas' "California Dreaming" begins playing on YouTube, it sounds so much better with earphones. She deeply admires Freddie Mercury, Hayao Miyazaki, and Conan O'Brien. Support the arts!
Mina Jang, Editor in Chief
Mar 20, 2019

My Most Anticipated 2019 Movies (Part One)

(Story)

Mar 14, 2019

West Ranch Faculty Follies

(Story)

Dec 14, 2018

It's "Great Gatsby," old sport!

(Story)

Nov 18, 2018

March to the Stars

(Story)

Oct 09, 2018

Journalism in Jeopardy

(Story)

Sep 07, 2018

Rally in the Making

(Story)

Aug 30, 2018

Marching for Perfection

(Story)

May 18, 2018

Winners of the World, Champions of Music

(Story)

May 18, 2018

Juliette Gomez: The Makeup Magician

(Story)

May 03, 2018

Luna Lee: Fashion Is My Passion

(Story)

Feb 07, 2018

We the Females (Stand)

(Story)

Nov 21, 2017

Prescription for perfection

(Story)

Nov 14, 2017

Hello Hart Rampage, my old friend

(Story/Media)

May 24, 2017

What's this? What's this? There's music everywhere

(Story)

May 24, 2017

My Trip to the Valencia Library

(Story)

Feb 16, 2017

What's inside Room 502?

(Story)

Dec 09, 2016
Nov 05, 2016

"Dreamland" leaves Hart Rampage in a daze

(Story)

Oct 16, 2016

Music Insider — Kayla's destiny duo

(Story)

Oct 12, 2016

Music Insider — Emily's "Night at the Opera"

(Story)

Oct 10, 2016

Music Insider — Welcome to the jungle, Arianna

(Story)

Oct 10, 2016

Music Insider — Jethro Tull's flute lives on

(Story)

Oct 09, 2016

Music Insider — Isabel's flight with Twenty One Pilots

(Story)

Oct 03, 2016

Music Insider — Spencer and the guitar legend

(Story)

Aug 12, 2016

The Start of Something New

(Story)

Apr 25, 2016
Apr 21, 2016

The Great All-American Musical (Movie) Disaster

(Story/Media)

Mar 25, 2016

A Chorus of Voices Takes Over Valencia Marketplace

(Story)

Mar 10, 2016

"Women in STE(A)M: I Need My Space!" is a Blast

(Story/Media)

Mar 01, 2016

Deadpool Kills the Superhero Mold

(Story)

Feb 10, 2016

Boys' Basketball loses to Canyon during the last second of the game

(Story)

Jan 10, 2016

Harmony at West Ranch

(Story)

Nov 17, 2015

The Art of Marching On

(Story)

Oct 29, 2015

The March To The Finish

(Story)

Oct 28, 2015

Prescriptions Are Not Descriptions

(Story)

Oct 14, 2015

The Survival Guide for ¨The Martian¨

(Story)

Sep 18, 2015

A Ten Out of Ten-nis

(Story)

Sep 15, 2015

Dishonor on You, Dishonor on Your Cow

(Story)