End It Week
Hang on for a minute...we're trying to find some more stories you might like.
Human trafficking is the trade of humans as forced laborers and mainly sex slaves. The National Human Trafficking Resource Center estimates it's a $32 billion industry and 20.9 million humans are being trafficked yearly. Although most of this industry occurs in third world countries, it is also happening in the United States.
Sticking to the motto of "Educate, Motivate, and Eliminate," the Unlikely Heroes club decided to take action. Although Unlikely Heroes is a fairly new club, it tries to raise awareness to help victims of modern day slavery and encourages students to take action against this matter. This week was West Ranch's official End It week, where the club's purpose was to educate students on human trafficking and motivate them to end this crime.
Throughout the week club members and officers set up a booth in front of the ASB office to promote awareness of human trafficking.
"We were selling the T-shirts and giving out buttons to people to raise awareness, not to gain money. It is part of our motto and plan to 'Educate. Motivate. Eliminate,'" said club member, sophomore Nathan Myung.
On Wednesday, about 300 students crowded to the theater to listen to guest speaker, Erica Greve. Greve is the President and Founder of Unlikely Heroes and has worked with youth and young adults nationwide for over ten years. The presentation began with a short introduction by the president of West Ranch Unlikely Heroes, Ginnie Bang and vice president, Eric Gertner. Shortly after, Greve spoke immediately about her purpose: to educate and motivate the audience. She began with the definition of human trafficking and emphasis on the important impact our generation has on this serious matter. Later, Director of Outreach, Ben Decker, shared a short story about a girl and her family who was affected by the horrors of human trafficking.
Although Decker only gave a small overview of the girl's story, students felt moved and realized that human trafficking is a real and horrible lifestyle for many.
"I feel that, after hearing the girl's story, human trafficking is very unsafe. I felt inspired and would like to join the club to stop these kinds of stories from being told because they won't exist," said sophomore Ethan Orlanes.
Greve concluded the motivational speech by illustrating how important it is to strive to eliminate this issue one person at a time.
"We are standing in the same moment of history of Anne Frank," Greve said. She asked the audience, "Have you ever wondered why people of that era did not seek out to give outreach in hiding Jews? It's because most of the population did not know that Jews were being persecuted in that manner. We are standing in a similar situation and a critical moment of history; it's time we take a stand and do something."
Unlikely Heroes club advisor, Paul Yoon, ended with a simple quote from Edmund Burke for students to ponder. "The only thing necessary for the triumph of evil is for good men to do nothing," he said.
President Bang was excited to see many students attend and given the opportunity to be educated by Greve.
"[Greve] was an amazing inspirational speaker. We would like to thank her for taking the time to share her experiences with us. I'm glad we had many students who were excited to listen to what she had to say," said Bang.
This week Unlikely Heroes club has greatly educated and motivated West Ranch about human trafficking. Keep on raising awareness Wildcats!
About the Contributors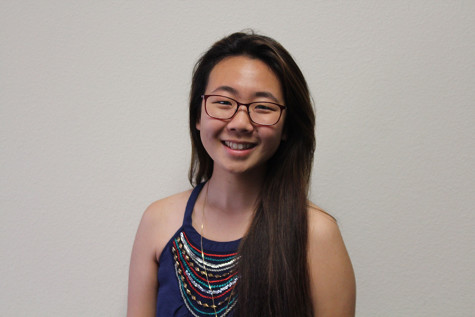 Candace Ro, News Editor
I am a lover of writing. I also like art, but I think I convey my thoughts and ideas better through writing. I look pretty typical on the outside, but...
Danny Hyun, Staff Writer
I am a senior staff writer in West Ranch journalism program. I have been in the program since my junior year. I really enjoy writing sports news and just...