Nomads Visit West Ranch
Hang on for a minute...we're trying to find some more stories you might like.
Approximately 24 million people are living in extreme poverty in North Korea according to Google. In North Korea, citizens are deprived from freedoms such as speech, religion, and movement. The country is very strict on travelers, and it is illegal to leave or pass the borders of North Korea. Citizens have tried to escape the country before, few have escaped alive and many others killed or sent back to North Korea to be tortured.
West Ranch's club, LiNK (Liberty in North Korea) is dedicated to raise money and awareness to help rescue refugees. On Nov. 7, LiNK invited nomads to come speak upon the subject and share their personal experience. The team refers to themselves as nomads because they travel around California speaking to different schools about this crisis. The club served pizza, Otter Pops, and held a raffle. They also sold merchandise such as decal stickers, clothing, and phone cases to help raise more awareness.
Room 542 was crowded with students who attentively listened to speakers, Josh Lee, Jessica Choe, and Jessica Monteagudo. The presentation began with Lee speaking about why this issue is so important. Lee introduced himself and told his personal experience of being a high schooler and making change.
"When I was in high school, I raised $5,000 to save two refugees. I'm here to inform you on the North Korean crisis. We need to help reduce these refugees in dire situations," said Lee. "I believe high school students have great passion and energy. They can make a big change in someone's life."
The rest of the time was devoted to watching a film called "Danny From North Korea." Danny is a refugee from North Korea, and the film depicts his escape and the hard life he had to live in the country. The international LiNK organization has been helping and supporting him all throughout the way.
"The speaker was very inspirational and really made me want to devote my time and effort into rescuing refugees," said freshman Bridget Lee.
Although the meeting took place during the short period of lunch, students gained insight to this situation in North Korea.
LiNK secretary and public relations officer, Sydney Chang, was also motivated by the film and nomads' speech.
"I think the nomads were inspiring and I'm really thankful they came. I feel like the nomads really helped students understand more about the North Korean status. Not only me, but also the other officers hope that today's meeting will spread the word about our club and to motivate our members to participate and work hard to help this crisis," said Chang.
So far, the international LiNK organization has rescued 188 refugees who are currently free from the chains of North Korea. West Ranch's LiNK continues to raise awareness at school and meets every Monday in room 542.
"Danny From North Korea"
About the Writer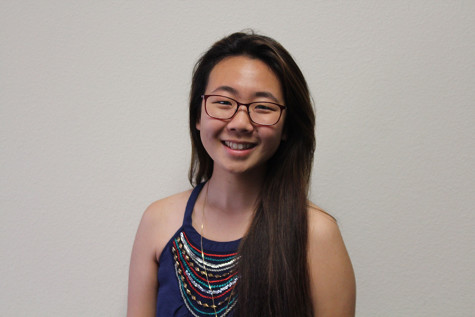 Candace Ro, News Editor
I am a lover of writing. I also like art, but I think I convey my thoughts and ideas better through writing. I look pretty typical on the outside, but...