#THEMUSICAL #IS #A #SUCCESS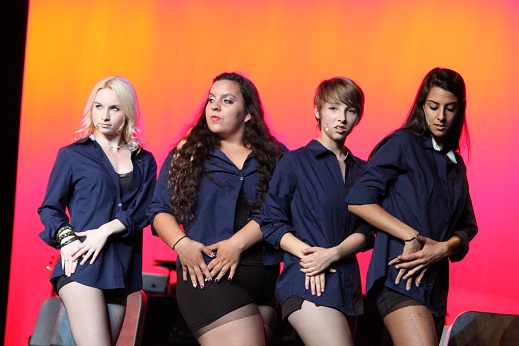 On May 23 and 24, the Theatre Arts Department presented "#THEMUSICAL!", a Broadway musical theatre review. It featured two separate acts, both filled with musical hits from Broadway productions, including songs from "Chicago," "Charlie Brown," "Wicked," and "Phantom of the Opera."
Without any sort of story or plotline to limit them, "#THEMUSICAL!" allowed its performers to show off their singing talents. Solos and ensemble performances were both incorporated into the performances, giving viewers a variety of styles to enjoy. The singing alone was worthwhile, but the dancing and choreography that accompanied every song made the night even more entertaining.
Brooke Sikkema, West Ranch junior, was given the opportunity to choreograph the musical, and she did a wonderful job matching moves to the music as well as keeping things fresh for the audience.
"Everyone brought something special to the dances I taught them and gave them character," said Sikkema, who has been in Theatre Arts since freshman year. "I'm so happy that Mr. Cook believed in me and gave me this great opportunity."
The music that accompanied each number was played live from right behind the performers, from a guitar, a drumset, and a piano. These three instruments were always on the same page, never missing a beat and providing a harmonious tune to both performers and viewers.
A comedic factor was weaved into the musical, with jokes made between performances by the host, senior Turner Lessard, as well as reenactments of "Rosencrantz and Guildenstern are Dead" throughout the course of the night. A cameo appearance by Christopher Cook, the theatre arts teacher, in one of the "Rosencrantz and Guildenstern" schemes brought out laughs from the audience. The only part that might have gotten more snickers is when a real dog was brought out during the performance of "Omigod You Guys" from "Legally Blonde."
The theatre department closed out their year with yet another huge success, leaving audience members anticipating what is to come next year.
"Singing, dancing, and entertaining at the same time is definitely not easy," said Sikkema. "I am so happy about how the show turned out and I could not be prouder."
The plays and musicals here at the Ranch truly are hidden gems, due to their cheap prices of only around $5, as well as the excitement provided by a timeless alternative form of entertainment.