The March To The Finish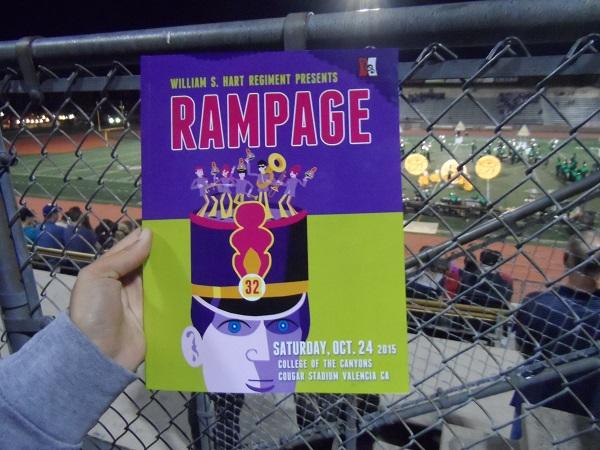 On Oct. 24, West Ranch Wildcat Marching Band and Color Guard competed in the 32nd annual Hart Rampage competition at the College of the Canyons (COC) football stadium. The Rampage is one of the most premier marching tournaments in Southern California, bringing in over 29 high school marching bands altogether.
   West Ranch went up against seven other schools in Division 4A while performing their musical repertoire, "Rain." Encouraging cheers erupted from the crowd when the percussion stand in the front began setting the rhythm, letting the marching band know it was time to play. Dressed in sparkly blue outfits, Color Guard impressed both the audience and judges as they created a beautiful water ripple formation across the field using only their bold flags. Their theme, "Singing In The Rain," could be seen and heard throughout sudden, yet exciting, changes in tempo, vibrant arrays of colors, teamwork as a whole.
   "It is always fulfilling and a great experience to be part of the marching band. We work very hard, so it's nice to win awards from time to time. Like I said before, being in Marching Band has been a huge experience for me and you get to make a lot of friends … it doesn't matter if they're seniors or juniors," said freshman player Ariana Werner.
   Though put in a very competitive 4A Division this year, Marching Band beat the odds and won first place in Band as well as third place in Auxiliary (Color Guard). Not only that, the percussion section was successful in being awarded Percussion Sweepstakes, one of the highest prizes given in the Rampage. Overall, it could easily be seen through the large amount of effort put into their everyday practice and daily performances that they had done their best to win these awards.  
"
It is always fulfilling and a great experience to be part of the marching band."
   "I think we did really good. We work 7-8 hours a week and it takes away from academics, but that rewarding feeling you get from competitions is always refreshing and worth it," said Mellophone Section Leader Kyle Dorough.
   Even though the West Ranch Marching Band has strong competitors this year, it will not stop them from aiming towards the winning streak.
   "Hart is our biggest competition because they practice twice as hard as we do. We have beat them before in some events, but we need to try just as hard this year," he continued.
   All in all, West Ranch Wildcat Marching Band and Color Guard did a fantastic job in the Hart Rampage and will continue to do so in their future performances. Good luck to all you performers in your next competition, the West Ranch Classic, on Oct. 31 at Valencia High School, and remember Cats, go support your fellow band members out there!