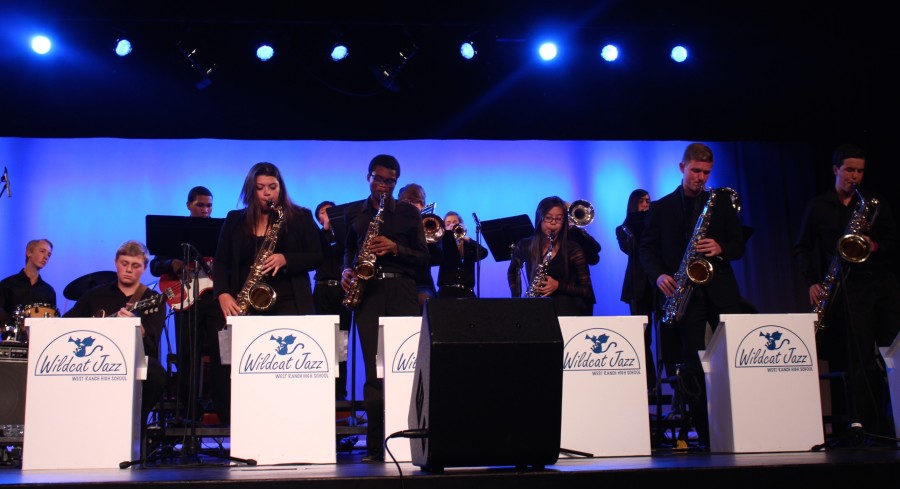 The theater lights dim and students dressed in all black take the stage. The noise of sheet music being shuffled and the adjustment of instruments are the only audible sounds as the audience anticipates the first note. Then suddenly, a quiet "one, two, three" signals the beginning of the concert and music fills the room.
  On the night of Dec. 4, West Ranch Jazz Band went into the spotlight to perform the pieces they have been working tirelessly on since October. The night began with several bluesy songs played by the Lab Band. The brass instruments, the strings, and percussion perfectly complimented each other to create impressive melodies and hard-hitting rhythms. Each song had a soloist who showcased their talents. I was blown away by some of the performers, and it was pretty hard to believe that there were only high school students on the stage.
  Shortly after the concert began, director of the Jazz Band, Brian Leff gave a brief background on each of the pieces. I was surprised to learn that one member of the Jazz Band composed his own song titled "If Only You Knew." It took me a while to process the fact that he wrote each note for each instrument entirely by himself, something I would never be capable of doing.
   "I think it was exciting that they had some student compositions and arrangements. The band is being challenged to do new works and it's really exciting that they have that opportunity as high school students," said parent Christina Jeffrey.
  One particular piece that stood out to me was "Angel Eyes," played by the Studio A Band.  Although it was a slower song, I really enjoyed the haunting and soothing vibe, and it allowed the audience to take a breather after hearing several fast paced ones.
  Although each musician thoroughly enjoys their hobby, there tends to be a couple of minor setbacks.
  "The most difficult thing about Jazz Band is waking up at six in the morning to go to the class and sight-reading. Sometimes the pieces are really hard and you don't know it's coming," said freshman and trombone player Caroline Voetberg.
  This was my first time seeing them perform, and hopefully it won't be the last. Until next time, Jazz Band.