Pitfalls of Procrastination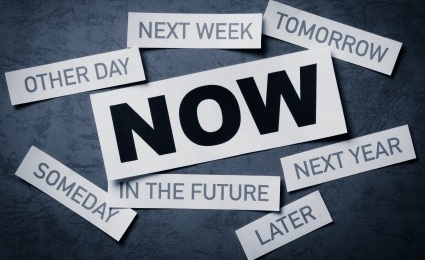 Everybody at some point in high school has put off work for later. Procrastination is a prevalent disease. For some people, it's a chronic habit and it eats up a massive chunk of their time. The sweet allure of saying "I'll do it later" once you finally get home from school or elsewhere is up there on the top of the list with "just one more show" and "what's the worst that could happen?" Procrastination is dangerous. It's something that you will naturally pick up and can't stop repeating. But defeating it is one step to leading a more fulfilling life.
   The vicious cycle with procrastination starts with putting off work for later. You know that you can do it pretty quickly once you put your mind to it. You also know that it has to be done, as homework makes up a pretty decent chunk of your grade. But in a moment of vulnerability, when you crash into your couch after school, you concede: "later."
   After an hour or so of rolling around with no productivity, you tell yourself that it's about time to get started. But now it's difficult to get motivated. Whatever you've been doing for the past hour has made got you committed, and you want to finish it. So you put it off once more.
   You have these moments of guilt while procrastinating, and it intensifies the longer you delay it. If you are a hardened veteran of procrastination, you may not feel it at all: a numbness you've built up after years of stalling. Some people may even enjoy the sinful joy of it all.
   Nonetheless, you make half-hearted attempts to get to work. But after delaying for so long, you begin to dread the assignment. It's boring and tedious — at least in your head — and that is discouraging. Rather than treading the unknown depths, you return to your den of comfort.
Eventually, you snap to your senses. The small amount of work you've put off is finally in front of you on your desk, and, voila, it's done. And it wasn't even that painful! You tell yourself, "hey, that wasn't so bad." This response is the beginning of the end, the start of a tragic path many others before you have taken to their inevitable demise.
   Slowly but surely, procrastination becomes a daily habit. It's become a part of your schedule, and you sometimes even defend it. Thoughts like, "I work better when I'm under pressure," or " if I do it now it'll take me two times longer," make you truly feel like procrastination is the way. But now you don't even do the work sometimes. It's a struggle to even do it.
   This is when you're weak. You've lost control. You can barely muster up the motivation to get basic stuff done, and the time you spent procrastinating is done doing useless unproductive stuff and worrying about the assignment itself.
   I've overly dramatized procrastination so far, but it definitely is an unhealthy habit. After breaking free of this vicious cycle, everything I do is more satisfying and I feel like I have more time on my hands. I don't get anxious about the homework and I don't have times where I miss assignments.
   Personally, I broke away from procrastination by setting up a checklist and an accurate schedule. Once you put down what you have to for the day, it becomes less appealing to put things off. Plus, it's motivating to cross out what you do as it gives a sense of progress. Building a solid work ethic is difficult, but it will help you for a lifetime. So don't sit around — get to work now.