Zombie Prom Rises From The Dead
May 18, 2018
   From May 2 to 4, the West Ranch theater program put on a production of an Off-Broadway musical called "Zombie Prom." Zombie Prom is a parody of "Grease" in which the leading man ("Johnny Without an H," played by senior Levi Adams, as our Danny Zuko) dives into an volatile nuclear reactor after the leading girl ("Toffee," played by sophomore Laine Matkin, as Sandy) breaks up with him. The accident subsequently sends him to the afterlife and he reappears at Enrico Fermi High as a zombie. Reunited with his cronies and schoolmates, they all campaign to have their strict principal (literally named "Ms. Strict", in case you were to miss that) allow "Johnny Without an H" to go to the prom, which apparently had a preexisting rule barring zombies. This results, of course, in the ever-so-creatively titled "Zombie Prom."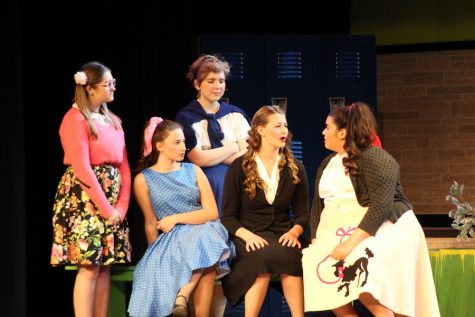 This play could have been a lot of things. At one point, it seemed that it might've been an interesting allegory on nuclear paranoia in the 1950's. Had it been carried through, this theme could have actually fit the narrative quite well, but by the second act it's completely abandoned. Instead, the show took a turn towards the timeless moral of "love is blind." Nevermind the rigid standards of 1950's suburbia which would have left Enrico Fermi High most likely segregated; it was important that the audience left with their prejudices towards necrophilia profoundly challenged.
  It was clear that junior Lauren Franco took time with her character, Ms. Strict — perhaps they went out for coffee, or got their nails done together, or maybe even gossiped about the other cast members. Either way, all that bonding was worth it because Franco was able to better understand Ms. Strict.
  "She's just demanding attention and control, and she's a little bit kooky, but at the end of the day, she's got a special place in her heart for people who care about her," said Franco.
photo by Skijler Hutson
  Part of that courting process was deciding to play Ms. Strict in drag. With a large ginger wig and eyebrows drawn up to her hairline, Franco came out on stage — rather, charged into the theater — with a fury that matched her fiery, red dress outlined in a corset. Snapping multiple switches across her knee in anger at "Johnny Without an H," she raised her outstretched hands over the crowd, studded with three-inch nails, and cried out about the importance of "Rules, Regulations, and Respect!"
  Another stand-out performance was Grace Hofer in the role of Ginger. With energy and exuberance to boot, Ginger was an absolutely delightful character to watch. It was obvious that both her and Franco had done ample research and studied the little of what the script gave them to extrapolate well-rounded, complex, fun characters.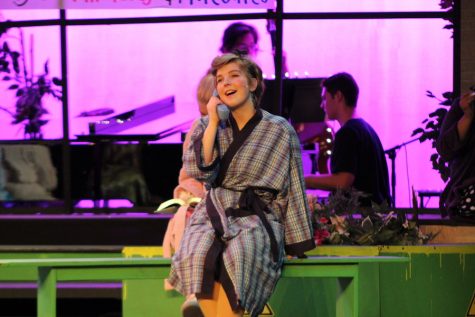 In fact, because the script gave them so little to work with, the only way to effectively play the characters was as exaggerated stereotypes. This worked so well on some actors that when other actors didn't exaggerate their characters to absolute absurdism, they almost felt lost. After all, this was meant to be a parody. Franco and Grace delivered on this exaggeration, while others took their roles as if this was the original "Grease" production, failing to realize that they had to make a joke out of themselves and their characters.
Overall, the audience loved the show, laughing with every joke and snuck-in reference. It was a truly "wholesome family fun" type of show and everyone was cheerfully inclined to relive their first time watching "Grease," now with a few laughs.