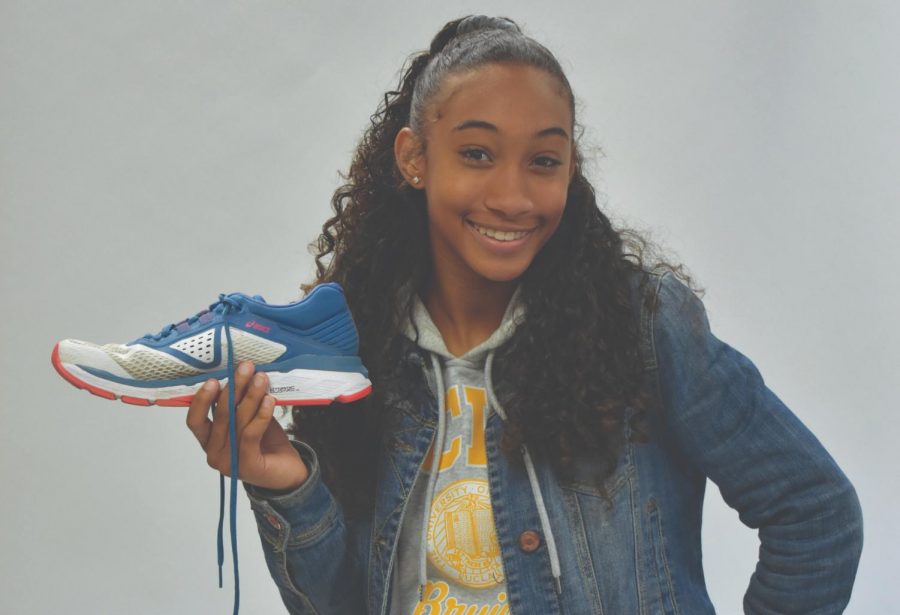 Hayden Washington
Stamina, heart, passion and drive: According to Hayden Washington, if you do not have these qualities in your arsenal, you cannot be a successful runner. Washington, a gifted freshman who secured a spot on the West Ranch varsity cross country team in her first year of high school, has all of those fantastic attributes and more. She finds time to train intensely while managing honors classes and charity work, and she is one of the most hardworking students on campus.
Q: What are the best parts of running? The worst?
A: The best parts of running are going on long runs and talking about the most random things! You also get to see a lot of your friends every day which is a plus! The worst parts are the pain that you feel after getting through a hard and tough workout, but you know that it will help in the long run.
Q: When and why did you start running?
A:  I started running when I was seven, and this is my ninth year running. I started running because my sister was also running at the time, and I wanted to do the same thing as her and ended up loving it.
Q: What opportunities has your sport brought you?
A: I have been so lucky to be a part of some of the amazing opportunities as a runner. I have been to four Junior Olympics in club running where I got to go to different states and run for my team. I am also apart of the girls varsity cross country team that made it to state this past cross country season!
Q: Who are the role models and inspirations in your life? Why?
A: My parents and sister are my best role models and offer me the best inspiration in my life. I wouldn't be here today without the help of my parents. They do everything for me, and they give me so much love and support for my sport, so they are definitely huge role models and inspirations for me. My sister is just the best person to have around for emotional support because she also runs so she knows exactly what I'm going through all the time. She just makes me happy whenever I'm scared or nervous for a race the next day!
Q: What qualities must you have to be a successful runner?
A: Anyone can be a successful runner because all you need is to have good stamina, practice, practice, and practice, and have the heart, passion, and drive for the sport. I think that if you put your heart and soul into anything, you will eventually be amazing at it and that is what I did in running.
Q: How often do you train? What does a typical practice look like?
A: I train six out of seven days of the week. Depending on what the run is for the day, whether it is a workout or a long run, first, we wait until everyone on the team gets there. Then, our coach tells us everything about the run that we are going to be doing, like the pace we need to be going and how to run certain parts etc. Next, we do leg swings and stretch a little bit before our run so we don't pull anything. After we go on our run and when we get back, we all group up together, and finally, we stretch and do drills together.
Q: Is it difficult to juggle school work and your sport?
A: Yes, I'm not going to lie, it is a very dedicative sport and whenever I have large tests, the running schedule can be a little difficult to balance with school, but in the end, it is all worth it!
Q: What is your biggest accomplishment?
A: My biggest accomplishment was when at the CIF Finals, the race that would determine if our team was going to go state. I had just crossed the finish line and was walking over to grab my water and the announcer was announcing which teams had made it to state, and last I had heard we were the eighth team and only teams that placed seven and up go. He is calling first, second, and third, and at this point, I was just hoping that we at least got seventh and then he calls in fifth place: West Ranch! At that moment I was overwhelmed with utter happiness and thinking "oh my gosh, we just made it to the State Championships!" Then I ran over to go hug my teammates, and I could tell that we were all thinking the same thing — we had just made it to state! It was one of the best experiences of my life, and I wouldn't have traded it for the world!
Q: What do you do outside of school and running?
A: Outside of school and running, I spend a lot of time with my family because my family is one of the most important things in my life. Without my family, I would not be where I am today! Some of the other things I do are hang out with my friends and help out at some national charities.
Q: What are your goals for 2019? How will you achieve them?
A: My goals for 2019 are to go to Arcadia for track this year as well as try and make it to state again next cross country season! To achieve these goals, I will do my absolute best to put everything into making them happen. I will work even harder and focus more on my training and preparation for both of these goals.
Q: Where do you see yourself in five years?
A: In five years I see myself getting a scholarship for either academics or running at UCLA. Going to UCLA has always been a longtime goal for me. Whether I will run there or not, I love the school and plan on going there in the future.
Q: What is your best time? What did you need to do to get there?
A: My best time for cross country is an 18:08 in a three-mile race. In track, my best 1600 meter time is a 5:27. It took a lot of hard work in every practice, whether it was a 60-minute long run or a track workout, and I was trying to get 1 percent better every day!