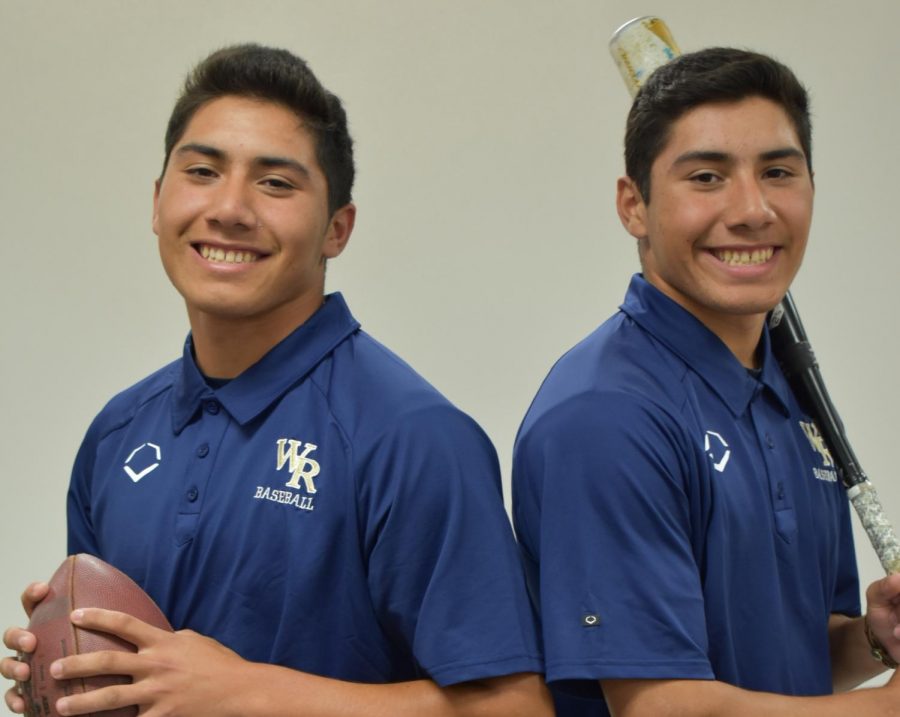 Ryan and Jovan Camacho
The Camacho brothers have consistently been powerhouses on West Ranch's football and baseball teams. Their skills on the field are evident by their starting positions on varsity teams in both sports since sophomore year. Participating in sports from a young age, the twins have developed a unique sense of teamwork and drive that has helped them grow as both athletes and brothers. With Ryan being named Foothill League Player of the Year and Jovan as Foothill Offensive Player of the Year, the future looks increasingly bright for these two star athletes.
Q: Where did your passion for sports start?
Ryan: My passion for sports had started at a very young age. With our dad being a high school coach for multiple sports, we had constantly been around sports since we were little and they just started to grow on me. There were a lot of athletes in our families, and I had looked up to all of them and eventually wanted to be just like them.
Jovan: My passion for sports started when I was little from watching family that I was always around. Also, my dad has always been really big on sports, and he's always pushed us to love sports and make them an important part of our lives.
Q: What are your future plans? Do they include football/baseball?
Ryan: I am currently unsure of my future plans, but I would love to go to school at a four year university. I would love to have the opportunity to continue playing both of the sports that I love at any level.
Jovan: In the near future, I do want to continue to play both sports and be able to compete at a high caliber. I would like to attend a four year university and see if I am capable of moving on from there.
Q: Why do you play sports and what drives you to continue?
Ryan: I play sports because they are something that constantly pushes me to get better. There are new things I learn all the time from my coaches and teammates. There are many lessons that I have learned from playing sports. What really drives me to continue to play sports is knowing that there is always room for improvement and having the opportunity to be around my friends.
Jovan: The reason I love to play both sports is because I am able to put all my hard work to the test and have many different opportunities to show other people what I am capable of. Many of my friends drive me to continue playing the sports I love. They make being a part of the teams way more enjoyable, and it's great to be surrounded by others that want me to succeed.
Q: What was the hardest part about playing two varsity sports all through high school?
Ryan: The hardest part of playing two sports throughout all of high school is the short amount of free time we get during each year because there really is no time in between sports. Once one sport is over, its right into the next one.
Jovan: I think that the hardest part about playing both sports was time management because as soon as one sport ends, I would have to jump right into the other. While playing one sport, I still would have to find time to try and improve my skills for the other.
Q: Who inspires you most?
Ryan: The person that inspires me the most is my grandpa because he is someone who doesn't look out for just himself — he looks out for my whole family all the time. He does his best to make sure he's always surrounded by his family. Even if we have a game that is far away, he always does his best to try and make every single one. He also used to be a very talented athlete who has taught his family how to be the toughest competitors in everything they do.
Jovan: My Dad inspires me the most because he's always looking out for us and our whole family. When I'm struggling in a sport, he will stay on me and make sure to remind me about everything I need to do. At any time, I can ask him to go hit or catch, and he will make time for us to go work out in some sort of way. He tells my brother and I about his experiences that he went through while in college and high school, and they are very encouraging and I've always wanted to be as successful as he was.
Q: Was there ever a time when you wanted to quit either sport?
Ryan: No, there has never been a time where I wanted to quit a sport. Even if I ever got frustrated with someone or myself, I knew all of the hard work put in will always eventually pay off.
Jovan: No, I have worked too hard and devoted a lot of time into both sports to even consider quitting. I also just have always felt that quitting or even considering quitting would be a betrayal to the games that I love.
Q: How does being twins impact your gameplay or practice?
Ryan: Being twins, I feel it has ended up having a big impact on my gameplay because growing up with someone all of my life and seeing what they are capable of gives me a lot of trust in [Jovan]. It gives me more confidence knowing there are others who are going to give 110 percent to not just make themselves better but to make their teams better.
Jovan: I am very fortunate to be a twin, and it provides me with opportunities that many other people do not get. Being a twin makes almost everything a competition. I feel that having my brother to constantly compete with makes me stronger and better. While practicing, I often will compare myself to my brother. He just makes it way more competitive as it makes me feel that I have to outperform him in every aspect of the game.
Q: What has been your favorite sports-related memory of highschool?
Ryan: My most favorite sports-related memories of high school are being a part of the first West Ranch football team to start off 8-0 this year and when I found out that I was selected as the Foothill League Player of the Year.
Jovan: My favorite high school sports-related memory has to be between getting selected as the Foothill Offensive Player of the Year for football or setting the bar and going undefeated for baseball freshman year 27-0.
Q: Where should we expect to see you in 10 years?
Ryan: I hope to have a job that I love that is somehow related to sports and to be very successful and to be surrounded by many great people. I would want to be helping out the community because I feel it's very important to give back to where you came from.
Jovan: The ideal position I would like to see myself in would be in some sort of profession having to do with football or baseball. I think that getting to play the sports that I enjoy while being capable of supporting my family would be amazing.