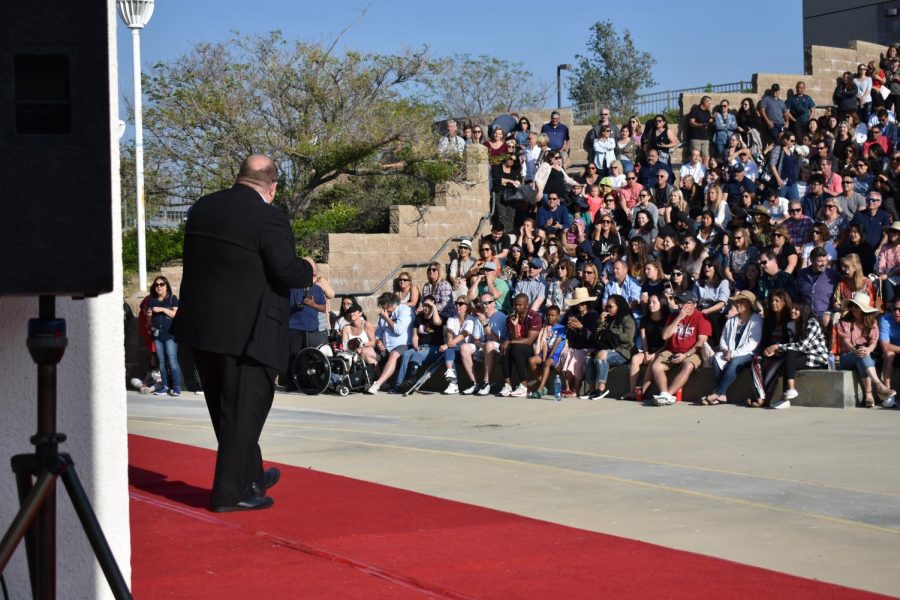 Dresses and twinkling lights glittered as students filed into the Petersen Automotive Museum. Greeted by jazz music in a lush courtyard styled after the famous mansion of Mr. Jay Gatsby, students were transported to an era of absolute luxury.
  The glamorous setting provided a perfect backdrop for students looking their best — gowns graced the floors all day, from the electric excitement in locker-room lines to the red carpet promenade; from the buses filled with impassioned laughing and singing to the dance's venue itself. This was sure to be a night to remember.
  In a regal procession, the prom court took the floor: Daryl Evans and Sophia Kriegel, in a beautiful floral dress; Skijler Hutson and Sophia Hardy, looking already like royalty; Ella Kriegel, who starred in the school musical, took full command of the floor as classmates cheered; Phenix Arce and Jenna Polito, in a bold, dashing red; Matt Phorn and Lauren Franco, who was, of course, in full drag; Robbie Myers and an elegant Sydney Schauble.
  A nervous silence fell over the crowd. Then, the winners. "Robbie Myers!" Then, finally, "Sydney Schauble!" Our new Queen donned her crown.
  A slew of high-energy dances and tired feet later, the first few buses started to depart. The ride back home was quieter than the one there; a mirror image, bookending the night. What better way to end Senior year than with a night as crazy and fun as the 2019 Senior class itself — inside jokes from beside a life-sized replica of Pixar's Lightning McQueen and photo booth strips with Mr. Welch and Ms. Frame were the singular odd mementos saved from the night.
  As our nights came to a warm, happy close, the class of 2019 knew that we had always been a special group of students — Prom was just our chance to prove it.