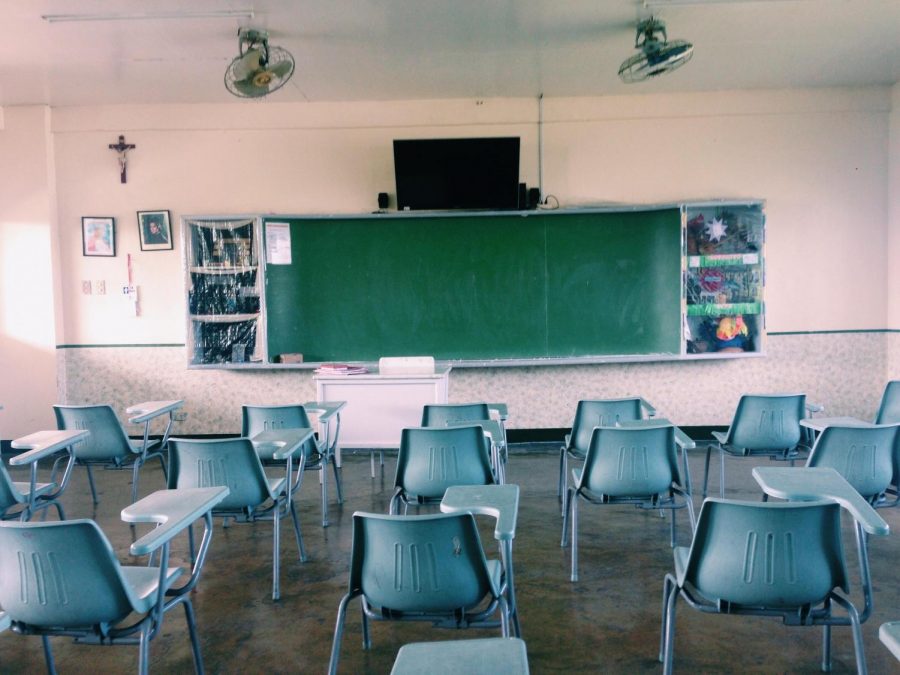 The American Empire
The year was 2009, a decade ago. The halls of my new school in Manila were decorated with "English Only Zone" signs, meaning that if students were to speak in any other language and were caught, they'd be given a verbal or written warning.  At the time, I didn't see what the problem was. It was only natural for me to learn and speak fluent English, and most of my peers thought so as well as it was expected of us. 
Fast forward to 2015, during eight grade at the same school, when I had been subjected to derogatory comments about the color of my skin — a rich brown color which marked my identity as a Filipino — by someone with lighter skin but of the same race. I remembered feeling dirty, overcome with the desire to change something I knew I should be proud of or should care less about. The same negative attention was given to other distinct features of my body because someone forbid that looking like a native in your own country could ever be considered acceptable and beautiful. 
Almost every single famous Filipino, or the people who represent the country globally, such as Lea Salonga and Miss Universe Pia Wurtzbach, are light-skinned. Though this isn't a problem as they are greatly respected, there hasn't been a time in any point in my life where I could look up at the big screen or the world stage and see someone with my brown coloring. 
"Someone forbid that looking like a native in your own country could ever be considered acceptable and beautiful. "
I grew up in a society where glutathione, papaya soap and other whitening products were advertised heavily and could be found in every mall and convenience store. I knew more about the West ever since I was a little kid, and I've prided myself with that knowledge. I must admit that even I am guilty of looking down on my provincial kin who struggled to speak English but were fluent in their dialects, those who knew nothing about the West but had preserved our culture.
At this point, I'm tired of discussing the colonial mentality engraved into my culture. I would like to believe that all Filipinos are aware of the legacy of colonialism, yet, sometimes, it seems like wishful thinking. I've come to realize at that point that though the Philippines is no longer a part of the Spanish and Japanese Empires, it will always be a part of the American Empire — an empire long withstanding and expanding, whose culture seems permanently engraved in the Philippines.
I love my country, but I would be lying if I said that I didn't love other countries and their cultures more. While some of us think that this is normal and justified, and I'm talking about the hundreds of thousands of non-Koreans in love with K-Pop. This behavior, this habit of not loving oneself — it's dangerous. There have been countless times wherein I've heard a foreigner who visited my country say: "Your country is beautiful. You just don't love it?"
Funnily enough, I hadn't really dwelled on that idea before I moved to America myself. 
As expected, I adapted better than other immigrants. Moving to the Santa Clarita Valley felt like moving to a better version of Manila: cleaner, safer, with a friendlier, less judgmental environment. People kept complimenting how well I spoke English, and I silently thanked my old school which offered only two classes where speaking Filipino was acceptable. 
Nobody said anything negative about the color of my skin, and some even complimented it since a tan is much more desirable here. I spoke like an American, dressed like an American, and had sixteen years worth of American pop culture ready at the back of my mind. The friends I made often couldn't believe how well I knew about every past trend, national concern and historical event. It was effortless, really. 
I expected to finally and wholeheartedly embrace the United States of America. But rather than doing such, I was overcome by a small, yet strong parasite known as homesickness.
Suddenly, I found myself yearning for the gross yet colorful tricycles and jeepneys. I missed being allowed to bring a rice cooker inside a movie theater. I missed getting a massage and a mani-pedi combo for only $5. I missed the fact that I didn't need a car to get where I needed to be. I missed the beautiful, unpolluted beaches hidden in resorts and not placed at the side of a bustling city. 
I suddenly missed everything about that country, both good and bad, and had decided that I could no longer treat it as second place.
I did not realize how fortunate I was to be experiencing this sadness, this longingness. To be in a foreign place made me realize how much I loved my country more, how much it meant to me, and how much it has shaped my whole being. I was surrounded by many Filipino-Americans who, despite growing up here in the States, demonstrated their pride for the Philippines. I felt free and liberated from my Western embrace and sought to finally hold my head up high and say, "I'm proud to be Filipino." 
It was also fortunate that I was not the only one who now fought to liberate my country and its people from the legacy of colonialism. Back home, I've seen dozens of my old classmates, the new generation, engage in political events and cultural awareness and demonstrate how it is to be a young yet powerful person. 
Trish Terrado is an advocate, digital creator, and proud morena (brown-skinned). She has used her platform to speak out about the legacy of colonialism and how the youth must respond. "I am aware of the gravity of our colonizers' influence, hence skin whitening is being heavily used by [Filipinos], but come on, we are already an independent country. We have the power to alter and curate "beauty" that can best define Pinays."
"I am proud to be morena because this is a reminder that I have finally decided to define beauty for myself." says Terrado, "This culmination of my journey gave me a purpose through my #MillennialMorena platform to be a source of encouragement, reminders, and light to my fellow morena women and men about their worth, value, and self-acceptance."
I love America — I love the opportunity, the diversity, the friendlier atmosphere and the promise of a better future. But now, I also love my country, the Philippines — I love its beautiful natural resources, its people who are now learning to love themselves and its potential to become the first-world country it deserves to be. 
"Ang hindi magmahal sa sariling wika ay higit sa hayop at malansang isda." ("He who does not love his own language is more than a beast and a dirty fish.") – Jose Rizal, The Philippine National Hero