High School Musical: The Series: The Review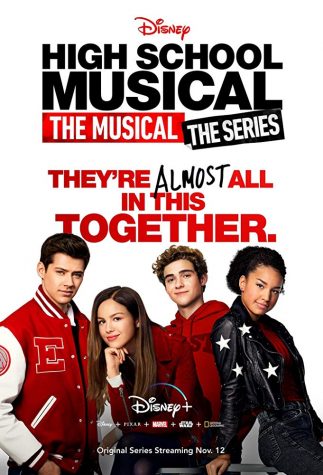 *Warning–spoilers!*
   Around three months ago, I reviewed the "High School Musical: The Series" trailer, where I voiced the much agreed-upon sentiment that the franchise was better left alone. 
   However, I couldn't resist watching, and I discovered upon viewing that many facets of the show are, in fact, enjoyable. The casting is impeccable, with one-half of the "Bizaardvark" duo, Olivia Rodrigo, leading the pack. Rodrigo's pipes are showcased multiple times throughout the episodes. Her character Nini's performances as Gabriella are upstaged only by introspective ballads that Rodrigo penned herself. 
    "All I Want," a sorrowful ukulele song about lovers old and new, was written by Rodrigo for the show and is sung by Nini. These self-sufficient performances make it easy to predict Rodrigo's future success as a solo artist. 
   However, most of the other cast members are new names, giving many undiscovered stars a spotlight. Musical theatre performers in particular take the stage. University of Michigan musical theatre major Joe Serafini portrays the farm boy-turned-Sharpay, Sebastian, and former Éponine Julia Lester plays the kind jack-of-all-trades Ashlyn. Each and every character is brought to life by the passion and devotion of the multi- talented cast (which features real teens!). 
   The wacky but lovable cast of characters also captures the diversity of a quintessential theatre community: people of all races and sexual orientations take the stage. 
   The choreography, though it didn't capture the authentic Kenny Ortega feel of the original movies, was wonderful. Athletic, balletic dancing accompanied by high kicks, splits, and triple pirouettes looks to be both Broadway-caliber and amazing onscreen.
   Though "High School Musical: The Musical: The Series" features many talented performers and a lot of bops, the plot elements seem a little more clichéd. Though many people voiced concerns that the series would copy the original "High School Musical" movies, the documentary-style filming and drama-loaded episodes rather call to mind "Glee."
   The seemingly perfect senior EJ and hopelessly clingy yet well-meaning Ricky compete for Nini's attention throughout the series. They both cross the lines in different ways, with EJ going through Nini's phone ("You" who?) and Ricky auditioning for the musical with no other object except to win Nini back. 
   Eventually, (major spoiler!) Ricky and Nini end up together and share a kiss onstage as Troy and Gabriella. Ashlyn and Big Red's romance culminates in a kiss as well. The "bad guys," EJ and Gina, eventually realize the fault in their jealous ways and make amends. Hugs abound. Everyone is happy. Ends are tied up neatly. 
   Personally, I found the main plotline cliche, and, considering that all the characters are high school students, all the kissing seemed quite excessive. Also, considering that Ricky is strategically framed as the "good guy" despite multiple layers of questionable, invasive behavior, we knew what was going to happen all along. 
   In fact, as much as I wanted to enjoy the series, I couldn't get past how awful Ricky's personality is: his behavior ranges from "obsessive and creepy" to "total selfish flake." Though it is clear that he "means well," whatever that means, he's either putting the production in danger by suddenly dropping out or trying to kiss Nini after biking to her house without notice and announcing that he will be sleeping on her couch (WHAT?). 
   Though the main plot was a trainwreck, I felt I could get on board with some of the secondary plots: Miss Jenn's ragged past as a failed actor and Nini's journey with self-doubt and discovery. These allowed us to dive deeper with characters and get to know them better as people, and the open end of Nini's entire conservatory extravaganza sets up for season two of the series. 
   However, other secondary plotlines seemed a bit rushed. Big Red and Ashlyn's romance came out of nowhere and progressed SUPER fast in the last three episodes, which is a shame because the actors' chemistry created undeniable potential for development. Gina's "army brat" past, though it did explain some of her unkind actions, seemed like something I'd seen before. 
   Ultimately, my favorite parts of the series were definitely the cast and the dancing. Though the plot makes me want to ball my eyes out, I'm glad that this show will open up opportunities for performers and creators who deserve it.