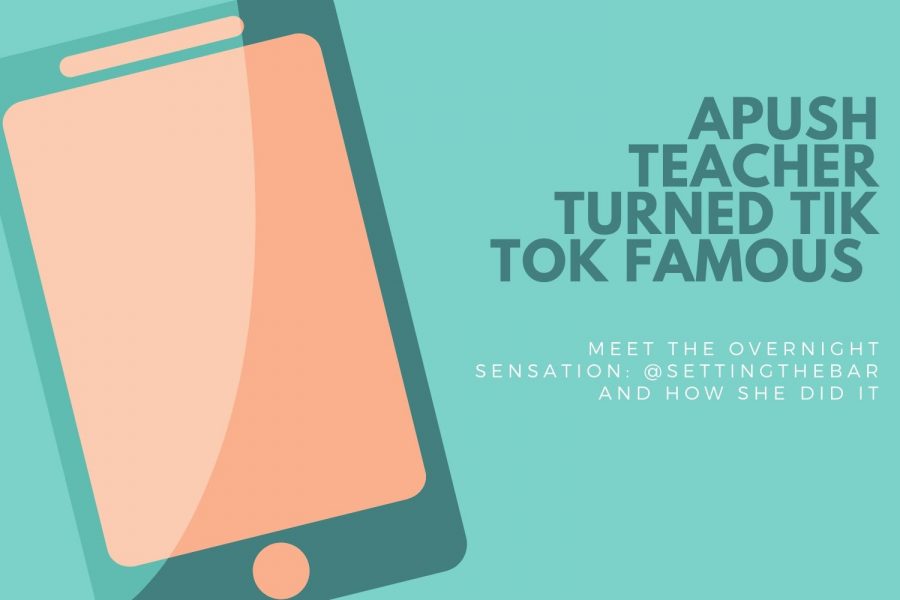 1.4 million followers, DMs overflowing with heart emojis and a collaboration with Charlie D'Amelio: This is no famous teen — this is our very own Ms. Barr. Under the username @settingthebarr, Ms. Barr has created various TikTok videos replayed by users across the globe. 
Although she may seem like a quiet APUSH teacher, she has cultivated incredible TikTok fame and goes above and beyond to gain followers on the app. Ms. Barr creates a wide variety of content, posting everything from famous dances to APUSH memes. 
Students in her class have reported that she continuously orders them to "stop watching TikToks in class" unless they're hers. Students have also witnessed Ms. Barr sneaking out of class during tests in order to make new videos, unaware that they can see her outside the window. 
While many students have described her addiction as concerning, Ms. Barr confidently states that "I'm positive, so there's just joy that's exuding from me."  
It might seem like someone as famous as Ms. Barr could get overwhelmed by the fame, but she claims that "the grind doesn't stop." 
Her journey doesn't end with making TikToks by herself. She founded the History House, a group of viral history teachers who desire to follow Ms. Barr's footsteps. The House has already petitioned Prentice Hall to include her in the next "Out of Many"  textbook as the United States' most beloved TikTok star. 
There's hundreds of famous dances on the app, but Ms. Barr is a self-proclaimed "expert in them all." Last week, she even got the chance to collaborate with arguably the most famous TikTok dancer, Charlie D'Amelio. 
"She does the best renegade I've ever seen," the 15-year-old star said of Ms. Barr. "She really puts all the rest of us on the app to shame." 
Recently, Ms. Barr has received several brand deals from the world's most successful businesses. Her latest TikTok was a partnership with Charmin, one of the most popular brands right now, from which she earned $520,000. 
When asked who her biggest inspiration is, Ms. Barr enthused, "George Washington. He is my favorite and I love him." 
Her biggest dream is to visit Mount Vernon with the millions of dollars she is earning from TikTok. She also wishes for his Farewell Address to be read at her funeral. 
To aspiring TikTok stars at West Ranch, Ms. Barr would advise, "Get through school first, and only spend eight hours a day on the app. Also, just be yourself. Don't copy others." 
Ms. Barr is as much a pioneer as George Washington, trailblazing her way to TikTok fame and acting as a shining role model for any teacher aspiring to get millions of likes themselves.