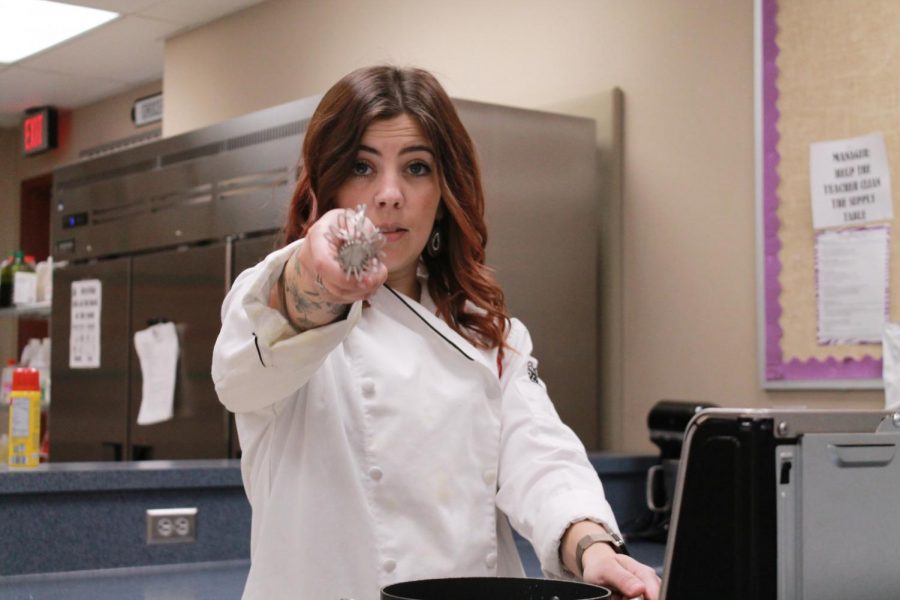 Ms. Griffin Brings MasterChef to West Ranch Culinary Room
Our resident culinary teacher, Ms. Griffin, recently came back victorious from the thirteenth season of Masterchef. Instead of investing her $1M cash prize on starting a business, a much needed vacation and early retirement, she came back here to West Ranch to teach and implement the lessons she learned from the competitive show. However, she also brought back something much worse.
Alice Chase, a senior in her class, started to notice the difference in her mannerisms two days after her return. 
"Ms. Griffin started acting really weird after coming back. She started talking in an English accent and kept screaming at everyone that their food was raw," Chase said, looking incredibly nervous. "Please don't tell her I said anything."
A couple of days ago, students were seen crying outside of the culinary room. One student, who wishes to remain anonymous, explains that they were kicked out of culinary class due to their lack of skill. 
"I was just sauteing some onions, and Ms. Griffin came up to me and said, 'My gran could do better, and she's dead.' Something is definitely different about her," he emphasized.
However, that was the least of the students' problems. Ms. Griffin strolled into the culinary room a week after she came back and decided to change her curriculum entirely from then on. Previously, students were given basic tasks in each class such as cutting vegetables and preparing sauces that accumulated into a dish that they shared whenever they finished cooking it. This was all over. 
Now, before any students can even think of enrolling in the class, they must prepare a complete appetizer, entree and dessert course that would be judged by no one other but Ms. Griffin. If she deemed a student worthy, then they would be welcomed with crossed arms. 
Every class, students must wear their corresponding white aprons and create a specific dish that they would be tasked with. These dishes range from Beef Wellington, Hasselback tomato caprese and balsamic-glazed steak rolls. A student will be executed (eliminated) each class. They will not only be called out, but they would also be dropped from the class and forced to find another elective. 
When asked how she was able to get the District's approval for this new curriculum, Ms. Griffin smiled and said, "I mean, I did win a million dollars."
The first day of the new curriculum, one student just decided to give up without presenting anything – which was a huge mistake. 
After embarrassingly walking up without any food, the student was forced to stand in front while Ms. Griffin delivered the final blow: "I've never, ever, ever, ever met someone I believe in," she walked up to the student, who wishes to be anonymous, and yanked his apron off, "as little as you." 
Then, a student tripped with the entire pot in his oven-mitted hands, sending it flying across the room right onto Ms. Griffin's apron. 
The room went silent. Ms. Griffin slowly stood up, grabbed two pieces of bread from the pantry and charged towards the accused student.
"What are you?" she yelled, shoving the pieces of bread on either side of the student's face.
"An idiot sandwich," the student muttered quietly in shame.
Ms. Griffin, with a frown, repeated, "I can't hear you. Speak up. What are you?!" 
The student, petrified, spat out the words, "An idiot sandwich!"
After this exhilarating semester, no student wanted to join culinary ever again. 
"I'm actually very happy I'm out of that kitchen," said sophomore Jamie Harris, "it was hell and a nightmare."
When asked what's the future of the culinary program, Ms. Griffin responded positively.
 "Well, I'm going back to the old curriculum for the rest of the year just so the lawsuits don't pile up. However, I'm scheduled to participate in Hell's Kitchen in six months, and I may or may not come back again to implement a similar curriculum to that. There is no doubt that so many students were able to learn from this MasterChef curriculum," she said happily in her English accent, "so you're all welcome."
"I didn't even know there were so many types of food-related insults," said Chase, looking incredibly exhausted, "That's the only thing I learned."